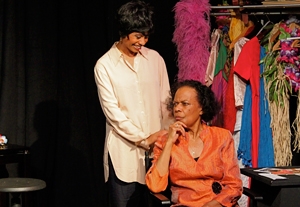 A versatile, determined, and groundbreaking actress who died young and is now largely forgotten, Diana Sands deserves any overdue remembrance of and tribute to her life and career. The great news about "Diana Sands: A Certain Toughness of Spirit" is that Nehassaiu deGannes is the ideal surrogate for Sands. Bearing a strong physical resemblance to the actress, down to a spot-on wig, the youthful deGannes clearly understands and communicates her subject's feisty dedication to her career, leavened by a sunny optimism and occasional moments of vulnerability.
I knew Sands slightly in Los Angeles circa 1970 when she was, typically, shuttling between filming "The Landlord" and doing a color-blind production of "Antony and Cleopatra" in L.A.'s Theatre in the Parks for a pittance. Since Sands died of cancer in 1973 at the age of 39, there wasn't much more to come, but what had gone before was glorious. I had seen most of her Broadway successes in the 1960s, starting with her color-blind casting—the Main Stem's very first—opposite Alan Alda in "The Owl and the Pussycat" and including "The Gingham Dog" and James Baldwin's "Blues for Mr. Charlie." She remains best known, if at all, for her role as the daughter in the 1961 film version of Lorraine Hansberry's "A Raisin in the Sun," a part Sands had played on Broadway two years earlier.
Oddly, that movie isn't even mentioned in Steve Willis' 70-minute treatment of Sands' story, although the stage version is, along with most of the other highlights of her career and a few from her private life. His play is badly flawed in its structure and continuity, mostly owing to the inclusion of a second character. Billed only as herself and unaccountably accorded the final curtain call, Hope Clarke is more than a co-star on stage. Clarke, the justly acclaimed choreographer, was Sands' dance teacher and friend. This could have led to some insightful narration of the chronology of Sands' life and career, but instead becomes mostly an overbearing intrusion. Clarke largely abandons playing herself to take up believable and funny renditions of Hansberry, Diana's bossy "Raisin" co-star Claudia McNeil, and Sands' mother. Then suddenly Clarke becomes a nameless interviewer, asking such inanities as, "You grew up in the South, didn't you?" when it had long been established that Sands was a Bronx native who had worked hard to lose her accent. Even worse, this hapless narrator asks Diana, "Did you know that 'Blues for Mr. Charlie' was based on the Emmett Till case?" Having already done the play, she knew.
It's hard to know where the blame for this serious imbalance lies, although some of it is surely the Willis' doing. Director Sue Lawless, who moves deGannes' Diana around a small stage smoothly, may have been hobbled by casting out of her control, but Lawrence Evans is credited with that casting job, and there are only two actors on stage.
What is clear is that both Sands and deGannes are due a serious rewrite.

Presented by Juneteenth Legacy Theatre at the Workshop Theater Company, 312 W. 36th St., 4th Fl., NYC. May 15-20. Tue.-Sat., 7 p.m.; Wed., Sat., Sun., 3 p.m. (212) 868-4444 or www.smarttix.com.Casting by Lawrence Evans.