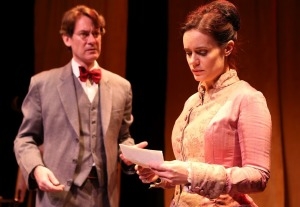 Generally, I love plays like "Final Analysis," in which historical figures who may or may not have known one another in real life meet and talk. In conversation and action, these characters often illuminate their particular eras and the issues of their day. The best of these works also consider the broader sweep of the human condition and universal and timeless themes of all kinds of love and war. Otho Eskin's world-premiere play aspires to all of these elements.
Eskin, however, has overpopulated "Final Analysis"—with seven characters of roughly equal weight and stage time—and he has crammed too many important themes into a one-act play. The somewhat central figures are Sigmund Freud (Gannon McHale) and Gustav Mahler (Ezra Barnes). The setting is a coffeehouse in 1910 Vienna, where the two meet because Mahler doesn't want to be seen going to a psychiatrist's office. The composer and conductor's biggest issue seems to be his unsatisfactory marriage to the much-younger Alma (Elizabeth Jasicki), who is here called Alma Maria. Mahler's mother's name having been Maria, Freud gets an easy "aha" moment.
Alma is also a frequent visitor to the coffeehouse and willing to discuss with almost anyone her marital problems and longing for a life of her own. Mahler made her give up her music career to be a full-time wife, yet he puts her in second position to his real passion—music. Thus we have the ongoing conflict between career and romance, for both men and women. As the winds of World War I are swirling through Vienna, we also get—in two-person discussions among all seven characters in various combinations—the issues of anti-Semitism, the rise of both Nazis and Communists, and the questioning of Freud's controversial science of psychiatry, in which he contends that the only two real human forces are love and death.
Oddly, given Freud's reputation today, sex is not overtly discussed. Nevertheless, the sexual subtext is unmistakable, particularly when it comes to the Mahler marriage and when a character billed only as the Young Man (Michael Goldsmith) extols the tall, blond, blue-eyed beauty of incipient Nazi soldiers. The wide-eyed fellow is so crazed in his hatred of Jews and love of Aryans as to be pre-Hitlerian, if not the young Hitler himself.
Presiding over the coffeehouse and narrating when necessary is a seen-it-all waiter (Stephen Bradbury). The other denizens are a young Jewish man from a prominent family (Jeremiah Reynolds), who all too clearly sees what is coming over the horizon, and—wait for it—Joseph Stalin (Tony Naumovski), who has come from Georgia to Vienna to organize a Communist cell. The actors are all first-rate, but the scene-stealer is Naumovski, whose part is funnier than most of the others. He tells Alma, "In my country useless people are not welcome; here they run the empire!"
Director Ludovica Villar-Hauser's only misstep is having Freud and Mahler conduct their sessions standing up or, occasionally, walking. They're in a coffeehouse, for heaven's sake. Why can't they sit down at a table and drink coffee, eat pastry, and talk, like everyone else there?
The period projections need a firmer screen than the one provided by a bifurcated, pleated beige drapery. Also, the play has been advertised as 90 minutes long, but I timed it at a full 10 minutes shorter, suggesting that there might have been some last-minute cuts in the text, only adding to the overcrowding of characters and themes.
Presented by DeVida Jenkins on behalf of Villar-Hauser Theatre Development Fund as part of the Midtown International Theatre Festival at the Abingdon Theatre Arts Complex's June Havoc Theatre, 312 W. 36th St., NYC. July 17–Aug. 4. Schedule varies. (212) 352-3101, (866) 811-4111, or www.theatermania.com.