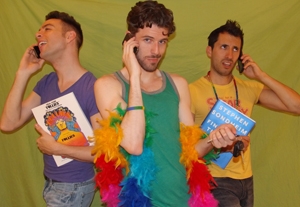 "Gay Camp" is an entertaining if erratic romp through the world of those who would like to, as the camp counselors put it, "steer clear of the queer." Chiefly responsible for its success are its three actors—Christian Mansfield, Ken Urso, and Philip Mutz—who play a dizzying array of roles with great comic agility at breakneck speed.

The show, written by Mutz and Susan-Kate Heaney and directed by Phillip Fazio, begins with a musical number in which three kids—adolescents Anton and Joshua and 6-year-old Little Susie—are kidnapped to the titular facility, where their parents have sent them to be made "normal." It's one of the first signs of the show's anarchic spirit that it is immediately announced that this is not a musical and there will be no more numbers. The queeny Anton and nerdy Joshua fall for each other despite the best efforts of camp faculty June and Martha, who are manfully repressing their lesbian love affair. As for Little Susie, well, there's no stopping her from taking control of the whole shebang.

"Gay Camp" plays more like a collection of sketches rather than an integrated script and so falls prey to inconsistency. But when it works, boy, does it work, and Mansfield, Urso, and Mutz are good enough to recall the work of the master of this sort of subversive frippery, Charles Ludlam. With the application of a little more rigor and discipline, the show might actually be worthy of the late, lamented Ridiculous Theatrical Company.

Presented by MU Productions as part of the New York International Fringe Festival at Here Arts Center, 145 Sixth Ave., NYC. Aug. 11–22. Remaining performances: Tue., Aug. 14, 9 p.m.; Fri. Aug. 17, 2 p.m.; Sat., Aug. 18, 10 p.m.; Wed., Aug. 22, 9:45 p.m. (866) 468-7619 or www.fringenyc.org.