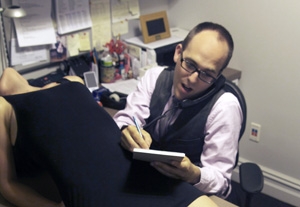 Gay actor-author Josh Mesnik's autobiographical 75-minute comedy "Have I Got a Girl for You" details his adventures working for a Florida prostitution ring posing as an escort service. Colorful subject matter, to be sure, and Mesnick mines it for some good laughs. Unfortunately, he seems to have learned the wrong lessons from his experience.

Newly sober Josh has left New York and his acting career to stay that way. Due to mountains of drug-induced debt, he must get a job. The hardnosed Gina takes a chance and hires him to man the phones and set appointments because he won't be tempted to sample the merchandise himself. Josh becomes friends with the girls and a bud to the johns, so good at his work that Gina is freed up to pursue an extramarital romance with a photographer. But Josh resents his pay and thinks that Gina pushes the girls too hard, so he decides to open his own service and bring her down.

Both Mesnik's performance and his play feel like imitation Woody Allen. Kim Morgan Dean is a real find, playing the various girls with bravura pinpoint flair. Danielle Di Vecchio is a tough but sympathetic Gina, which means that when Josh turns on her we agree that he's being an ungrateful, manipulative, nasty little snot. The play's final image of a triumphant Josh on the phone to the police to turn Gina in does not, I think, land as intended.

Self-presented as part of the New York International Fringe Festival at La MaMa ETC, 74A E. Fourth St., NYC. Aug. 11–25. Remaining performances: Mon., Aug. 13, 3:45 p.m.; Thu., Aug. 16, 7 p.m.; Sun., Aug. 19, 9:30 p.m.; Sat., Aug. 25, noon. (866) 468-7619 or www.fringenyc.org.