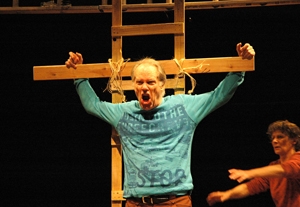 Tina Shepard, who has worked in the New York avant-garde since the 1960s, is far too old to be a stripper, but early in the Talking Band's revival of "Hot Lunch Apostles" she stands like a statue and mechanically removes her clothing, huffing and puffing like the soundtrack of a badly dubbed porno. Next, the similarly aged Jack Wetherall, whose body-builder's musculature contrasts with his sunken eyes and pale face, follows with his own routine involving an umbrella and too much black lipstick. Few theater events have so successfully represented the pathetic expenditure of exhausted bodies eking out a living as the rat race grows harder and less rewarding to run. Old-people burlesque as the symbol of the new depression: Though unpleasant to watch, it's a sharp critique from the old guard of downtown trash aesthetics.
The show begins with the audience visiting a "carnival" in the lobby that's filled with freak-show acts and hawkers of swag. The exploited freaks are a figure for the characters in the theater, a group of performers who travel the country serving "hot lunch"—code for their burlesque acts. Leading them is Loudon Wainwright's Barney, the troupe's barker, pimp, and resident male chauvinist, whom Wainwright imbues with a strong presence that somehow never upstages his castmates.
Though the plot took place in the future when the show premiered in 1983, the Band has reset it in the present, a heavy-handed gesture that nonetheless underscores the relevance of their dystopia. Rewriting the Gospels along liberation-theology lines—Will Badgett, whose grounded and occasionally fiery performance as Edge suggests André de Shields at a revival meeting, declares, "If Jesus were here, he'd hang out with us!"—is an effective rejoinder to today's brand of religious conservatism. What doesn't translate so well is the evening's earnestness about its politics, which doesn't quite substitute for a thin story and makes the evening wear slightly. The confrontational tone recalls an era when left-wing politics and radical theater stood side by side in the faith that they could change the world together.
Despite its contemporary setting and the unquestionable resonance of its message, "Hot Lunch Apostles" feels like a nostalgic gasp from the past. But it is no less unnerving that the Band got the present right.
Presented by and at La MaMa ETC, 66 E. Fourth St, NYC. March 8–18. Wed–Sat., 7:30 p.m.; Sun., 5:30 p.m. (Additional performance Sat., March 10, 2:30 p.m.) (212) 475-7710 or www.lamama.org.