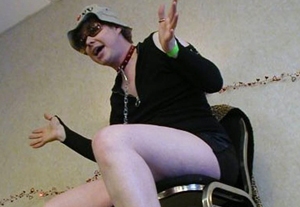 Mac Rogers looks roughly 45 years younger than the 85-year-old man he plays in "Judge, Yuri & Executioner," a one-man show written by Ed Malin. Except for one or two moments when he feigns a stiff limb, Rogers doesn't even try to evoke an aged fellow. Under DeLisa M. White's direction, however, he's an emphatic and enthusiastic storyteller, so you might be willing to suspend disbelief as he spends the next 40 minutes or so relating the sex-ridden, fancifully masochistic history of the character he's portraying, whom we eventually learn is named Zack.
In a robe and stocking feet and trailing a long rope, Zack comes on stage to hang himself. His 86-year-old girlfriend has left him for "a 79-year-old boy." But as he begins to deliver his suicide note into a recorder, he remembers the day he achieved 85 orgasms with the lady. "It gave new meaning to the phrase 'naked pain,' " he says, and the recollection gets him so excited that he "simply can't say goodbye to a world filled with such yummy torture."
So Zack decides to disrobe and tell us his life story. Except for a bout of service in the priesthood, it's a life in which he's been able to satisfy his masochistic tendencies with a series of older, domineering women. Luckily, Rogers has a pleasant-enough, bespectacled boyish face that may let you overlook the discomfiting garb under his robe. It's typical downtown-theater drag: torn net stockings, clingy black shorts, knit shirt torn away at the shoulders, studded dog collar, and baseball cap. It doesn't look good on him, but it matches the quirky, earthy humor that fills Malin's script. How much you'll laugh (or squirm) may well depend on your appetite (or tolerance) for such stuff. I did both. Spoiler alert: Toward the show's close, Zack tells us he's just been circumcised and pulls out a bloody bandage to prove it.
Late in life Zack finds meaning in his predilections: They make him happy. He discovers this when he comes across a memoir by the Russian cosmonaut Yuri Gagarin. Exactly how the revelation happens isn't clear, but it provides the show's title with its pun on the phrase "judge, jury, and executioner."
Presented by Temerity Theatre Company as part of Frigid New York at the Red Room, 85 E. Fourth St., NYC. Feb. 23–March 3. Remaining performances: Fri., Feb. 24, 11 p.m.; Sun., Feb. 26, 12:30 p.m.; Thu., March 1, 9:30 p.m.; Sat., March 3, 8 p.m. (212) 868-4444, www.smarttix.com, or www.frigidnewyork.info.