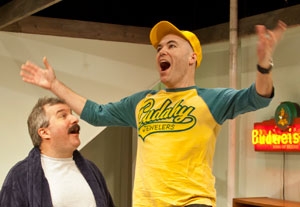 In the disorienting new play "Lifeline," playwright Frank Tangredi and director Jules Ochoa have teamed up to create an unsettling evening of shock and awe. Ostensibly about the burgeoning odd-couple relationship between depressed writer Ken (Brian Wallace) and his garrulous new landlord Pete (Buzz Roddy), Tangredi's script suddenly switches from sitcom to Lifetime two-thirds of the way through.
Still reeling from his "ball-buster" of a wife, Wendy, leaving, Ken moves into a basement apartment rented by the paternal Pete, who patiently tries to help Ken rebuild his life. Pete invites him to join weekly poker games with Pete's best friend, Seamus (an underused Britt Whittle), but just as Ken starts feeling more confident, his brittle, icy mother (Carole Monferdini) appears, as does an unfortunate fondness on Tangredi's part for obvious psychological warfare.
Like in any mediocre psychological thriller, the seeds of Tangredi's genre shift are there from the beginning. An unloaded gun makes an appearance early in the play; Wendy, whom we see only on video in the form of actor Lori Gardner when Ken reads her emails, vacillates alarmingly between bitch goddess and frightened little girl; and Ken's no-nonsense, practical mother hardly seems the gothic monster Ken has painted her.
Roddy gamely throws himself into the script's sometimes arbitrary twists, first as a jocular, gruff stereotype and then as something far messier after Pete reveals his true nature. Gardner is aces as the antagonistic Wendy, reveling in her cruelty, and Wallace does fine work as Ken but too often goes for loud over subtle, a serious handicap given the size of the space. But it's Monferdini's work as Ken's mother that turns the play into something more than the somewhat blustering comedy that Ochoa was fruitlessly trying to coax into being around Ken and Paul. With one purposeful stride across Ken's apartment, Monferdini lets audiences know that playtime is over, and the real drama is just beginning. In the end, she's as much a victim of the uneven script as everyone else onstage, but no one can say she didn't try,
Presented by and at Abingdon Theatre Company, 312 W. 36th St., 2nd floor, NYC. March 18–April 1. Wed. and Thu., 7 p.m.; Fri. and Sat., 8 p.m.; Sat. and Sun., 2 p.m. (212) 868-2055 or www.abingdontheatre.org. Casting by Hannah Davis.