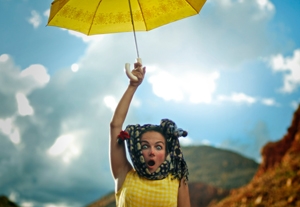 There's nothing little or ladylike about creator-performer Sandrine Lafond's one-woman show "Little Lady." Lafond is a gigantically talented movement artist, and the character she silently conjures in her 45-minute physical-theater piece is more disgustingly grotesque than femininely genteel. Directed by John Turner and titillatingly costumed by Nelly Rogerson, the show sets forth arresting visual images that are shockingly animated by Lafond's supreme dance, clowning, and contortionist skills.
When we first see Lady, she is an unidentifiable tent-shaped object sleeping face down with her buttocks poking straight up in the air. She wears a bright orange minidress and headscarf, enormous round sequined glasses that highlight the pearly white drops on the ends of her eyelashes, and a mink stole. As she awakens and begins to move around her habitat, it's unclear what she is. She stretches like a cat. Perched on her tailbone, she claps her hands overhead while beating the soles of her feet together like an ape. She drinks doglike from a bowl on the floor. She walks knock-kneed on tip toe with the assistance of a cane and makes strange grinning faces at us. Is she an animal begging for our approval or a demented old lady?
As the piece progresses we learn Lady's routine. She starts each day with a shower, squirting water all over herself from a spray bottle, watches television—a knitting instruction show, professional wrestling, and a war movie—and eats chewy, unappetizing pieces of red food from metal dishes. During the overnight hours she has erotic nightmares. In one she gives birth to a nauseating bundle of orange yarn; in another she grows giant breasts and a huge behind.
With her marvelously articulate face and body, Lafond transforms herself into a creature that is captivating yet off-putting. Lady's animalistic, monsterlike qualities outweigh her human attributes, so we find it hard to empathize with her. Most of the time we're not quite sure what she's doing or why she's doing it. She too strange to like but too expertly rendered to dismiss.
If the performance had ended differently, however, we might have come around to liking Lady. At the close of the third day, Lady discards her cumbersome accessories, suggesting a metamorphosis is in the works. One anticipates an exciting breakout dance. Instead, Lady goes to sleep while we watch a choppy video (by Paolo Santos) with images of Lafond amid mountainous terrain.
Self-presented as part of Frigid New York at the Red Room, 85 E. Fourth St., NYC. Feb. 23–March 4. Remaining performances: Sat., Feb. 25, 2 p.m.; Tue., Feb. 28, 9:30 p.m.; Thu., March 1, 11 p.m.; Sat., March 3, 5 p.m.; Sun., March 4, 12:30 p.m. (212) 868-4444, www.smarttix.com, or www.frigidnewyork.info.