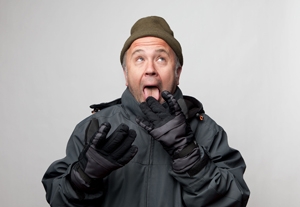 First, full disclosure: I adore Mary Jo Pehl. The writer and performer from the late, lamented cult TV series "Mystery Science Theater 3000" has always evoked a winning combination of plain-spoken Midwestern normalcy and sneaky off-the-wall subversiveness. She was, from all accounts, responsible for some of the show's best barbs, and she also recently published a collection of short autobiographical pieces, "Employee of the Month and Other Big Deals," that's pretty nifty. So when Pehl comes to town with a Frigid New York festival piece, "Man Saved By Condiments!," I'm there.
Alas, for her New York playwriting debut she has chosen a subject that has difficulty holding the stage for even 55 minutes. It's the apparently true story of Steve (Tim Uren), a security guard who, driving to work one day, careened into a ditch while eating a taco and changing the radio station, broke his hip, and was trapped for five days in the Wisconsin winter, surviving, like the title says, on whatever he could find in his car. So we get a stream-of-declining-consciousness monologue in which the utterly unremarkable Steve goes through Elisabeth Kübler-Ross' stages of grief as he muses on Fords versus Chevys, Faith Hill, how important he is or isn't to his co-worker buddies, how he wishes he hadn't broken up with his girlfriend (though they don't sound like a good match at all), his fondness for George W. Bush, and his love of bacon.
However varied Uren's vocal delivery is—among other things, he's a fine screamer—he and director Bill Stiteler are stymied by the situation. Steve is not, to put it mildly, a deep thinker, and his broken hip allows virtually no movement, so we're stuck listening to the random musings of a not-very-interesting, average guy sitting still on a set of two folding chairs and garbage. He does make the occasional amusing observation or gesture, and with the existential terror he's experiencing we can't help but care about him a little. But his spoken internal thoughts sound increasingly artificial, and he's just not very good company.
For her next effort, I hope the talented Pehl finds a worthier subject than this guy. Just before he's found, he weakly murmurs, "I'm not mad, God; I'm just bored." I hear you Steve.
Presented by Matthew Foster and Bill Stiteler, in association with Sean Cearley, Telvin Jeffries, Judy Stiteler, and Rachel Grapper of Heinz, as part of Frigid New York at the Red Room, 85 E. Fourth St., NYC, Feb. 23–March. 3. Remaining performances: Sat., Feb. 25, 11 p.m.; Sun., Feb. 26, 3:30 p.m.; Tue., Feb. 28, 6:30 p.m.: Fri., March 2, 11 p.m.; Sat., March 3, 9:30 p.m. (212) 868-4444, www.smarttix.com, or www.frigidnewyork.info.