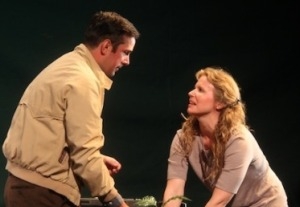 There's an elephant onstage. No, not a metaphorical one in the room, but an actual elephant in the show. His name is Harold, and, sure, he might kill you, but puppet designer James Ortiz has created pure theatrical magic on the level of "War Horse." Said elephant is the dramatic linchpin in "Miss Lilly Gets Boned," playwright Bekah Brunstetter's quirky experiment with the absurd. 
Brunstetter expertly bridges bizarre and realistic realms and explores what happens when we question our beliefs and ultimately ourselves. Sexually repressed Sunday school teacher Miss Lilly, whose only erotic experiences involve masturbating to Hugh Grant movies, has reached the end of her metaphorical rope. She greets God with hands clasped and an enthusiastic "Hi!" as she gently demands to be thrown a bone. When she meets Richard, an archaeology professor from South Africa who was recently widowed when an elephant killed his wife, Lilly's world—well, her libido—goes wild. While her promiscuous sister, Lara, tries to advise her to hold fast to what she's believed for 31 years, Lilly must make a life-changing decision.
Meanwhile, Harold, the elephant that killed Richard's wife, is on animal death row, and researcher Vandalla is determined to fix his behavior and save his life. At first these two worlds seem unrelated, but the darkly comic second act takes the connection to unexpected extremes in bouts of entirely pleasing theatricality. Lilly gets what she wants—bones in all their forms—but what she must confront is what happens when what you think you want isn't what you wanted after all.
Brunstetter's characters are reflections of everyday people, but she never resorts to stereotypes, and the actors embody these individuals with ease. Jessica Dickey makes Miss Lilly's blind faith and belief a relatable struggle, while Liz Wisan shies away from any slut clichés as Lara. Her delivery of Lara's second-act monologue at spinning class is hilariously heartbreaking. Chris Thorn's slimy Richard is the sort of lovable charmer every girl falls for, while David Rosenblatt, who plays Richard's son, Jordan, is too old for the part, though appropriately juvenile as the wise-beyond-his-years 10-year-old. Sanam Erfani can't compete with the elephant in her scenes as Vandalla, though she is believable as someone who might spend her time conversing with animals. The three actors who inhabit Harold—Brian Belcinski, Adam Blodgett, and Aaron McDaniel—turn the life-size puppet into a living and breathing sympathetic character.
Thankfully, director David F Chapman doesn't overinterpret the weird elements of the play and keeps the production lightly humorous and perceptive. We are all driven to extremes at some point in our lives, and though the aftermath is different for everyone, there are always bigger consequences than expected for our actions.
Presented by Studio 42 and Eileen Lalley as part of Ice Factory 2012 at the New Ohio Theatre, 154 Christopher St., NYC. July 18–21. Wed.–Fri., 7 p.m.; Sat., 3 and 7 p.m. (212) 868-4444 or www.smarttix.com.