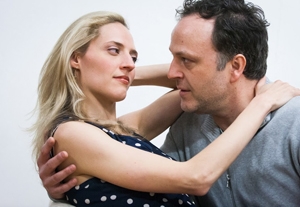 Any production that revolves around an idealized figure will inevitably run into the Helen of Troy dilemma: How can you interpret that ideal into flesh and blood on the stage, where it's bound to lose something in the translation? It's one of several problems besetting Mario Fratti's new work at La MaMa ETC, "Obama 44," a play whose treatment of obsession is limited by its own one-dimensional preoccupation with its star.
Fratti's modern Helen is Maja (Julia Motyka), a beguiling blonde who is obsessed with the Obama campaign and who, we learn early on, has been strangled by an unknown assailant. While questioning Mel (Thomas Poarch), Maja's last lover, who might also be in danger, the investigating detective (Richard Ugino) begins to be drawn in by Maja's allure, even from the grave.
Maja's sensual nature is embedded in her name: Although it's pronounced "Maya," the spelling recalls the seductive, reclining nudes of Goya. Her previous bedfellows cite her sense of humor and candidness—she never lies—as attractive, but her primary draw is clearly her sexual experience, which excites and disturbs them. Maya's lengthy list of lovers aligns conveniently with her Obama mania. She explains to Mel, "Obama is the 44th president.... You are my 44th lover. The best."
Motyka clearly has her work cut out for her, and her Maja is less of a charming seductress than a slightly unbalanced cheerleader. But Maja, while the biggest challenge, is not Fratti's only troublesome character. The parade of men interested in her barely gets more to work with. "I am emotional," says Bob (Dennis Ostermaier). "I'm trembling inside." Faced with such dialogue, presented without irony, Ostermaier founders in an attempt to make Bob more than a shambling sad sack. Add in the many flashbacks and manipulations of time—adroitly managed by director Wayne Maugans—and "Obama 44" comes off as poor man's Pinter: plenty of sexual tension and long pauses but not enough depth to make the characters and their failings ring true.
This could be a show examining the idea of obsession: Maja is fanatical about Obama, and her lovers are constantly preoccupied with her. Fratti hints at the ways such monomaniacal behavior distorts pure feelings, resulting in a twisted perversion of their original forms. But the lack of nuance in these obsessions renders them dull: Maja's perplexing love of Obama is never explored, and her lovers' fascination with her sexual history is eye-rollingly tiresome. When Bob asks, for the umpteenth time, if Maja will go to bed with him, I hoped she would throw a drink in his face and just put an end to it. Alas, the splash never came.
The real star of the play is sex itself. In Tatsuki Nakamura's black-and-white set—which might be a nod to film noir but comes off looking more like an upscale bachelor pad—the bed takes center stage. Elevated on a platform as if to underline its prominence, sex looms there, dwarfing the rest of the action. Whether this accurately reflects human experience is debatable, but it sure makes for some dull theater.
Presented by La MaMa ETC, in association with Voyage Theater Company, at La MaMa ETC, 74A E. Fourth St., NYC. April 1–15. Thu.–Sat., 7:30 p.m.; Sun., 2:30 p.m. (212) 475-7710 or www.lamama.org.