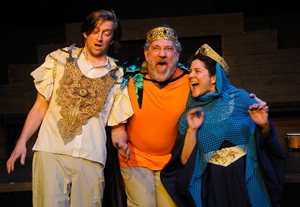 "Pericles, Prince of Tyre" has always presented a challenge to any who are audacious enough to take it on. It is one of the most rarely performed Shakespearean plays, and the reasons for this soon become evident. Our Will is only the co-author here, with much of the play probably created by the disreputable George Wilkins. Although written throughout in verse, many of the early speeches register as Shakespeare on an off day. In addition, it is an epic story, with dramatic events summarily dispensed with to move the narration along. The plot outline is best described as labyrinthine, and though it does contain several Shakespearean motifs—birth, death, rebirth—it is so stuffed with other fairy-tale factors that they get rather lost in this rough-hewn folk saga.
American Bard Theater Company, whose stated aim is the exploration of lesser-known works by Shakespeare and other well-regarded playwrights, bravely takes up the challenge. Jack Herholdt and Natalie D. Holmes have adapted the script, directed, and are part of the acting company. Theirs is an approach with a broad brush, an energetic paint job that includes several pleasingly original touches, including music (William T.N. Hall), puppets (Emily Hartford), masks (Eric Tronolne), and projections (Justin West).
The group has an affable let's-put-on-a-show spirit, as displayed in the introductory narration, shared by the entire cast. But inventive details can only go so far; the trouble is all those goldarn words and how to say them. The spoken text proves the cast's greatest problem, with some very uneven results. Ultimately, the sauce proves much more interesting than the meat.
There's a lot of story to be told. Pericles (Timothy C. Goodwin) journeys to Antioch to woo King Antiochus' daughter only to discover that king and princess are in an incestuous relationship. Pericles flees for his life, returning to Tyre, where his counselor Helicanus (Erin Gilbreth) advises him to move on to famine-stricken Tarsus, ruled by Cleon (Ross Hewitt) and his wife, Dionyza (Cheri Wicks). Pericles rescues the nation, but warned of Antiochus' assassins he sails off again, only to be shipwrecked.
Washed up on the shores of Pentapolis, he is taken to the court of King Simonidies, where knights are competing for his daughter, Thaisa (Holmes). Pericles wins Thaisa's hand. Learning that Antiochus and his daughter are dead, the couple sets sail for Tyre. In yet another storm, the pregnant Thaisa dies giving birth to a daughter, Marina. Enough already—and we aren't even at intermission yet. Still to come are a resurrection, a grown Marina (Lily Warpinski) captured by pirates and sold to a brothel, plus her escape to romance, a reunion, and a happy ending.
Goodwin's Pericles finally gives the character some needed gravitas in the moving recognition scene—one surely written by Shakespeare—while Herholdt makes a lively bawd in black stockings. There is welcome clarity from Gilbreth's Helicanus and especially Robert Dyckman's well-spoken Lysimachus. Many in the cast, however, are hampered by the general lack of clear diction in the speaking of the verse. Shakespeare ain't easy, but for a young, ambitious, and inventive troupe intent on celebrating the Bard, the addressing of this problem should be a primary concern.
Presented by American Bard Theater Company at the St. Mary's Times Square Third Floor Theater, 145 W. 46th St., NYC. March 9–April 1. Fri. and Sat., 7:30.pm. Sat. and Sun., 2 p.m. (212) 352-3101, (866) 811-4111, www.theatermania.com, or www.americanbard.org.