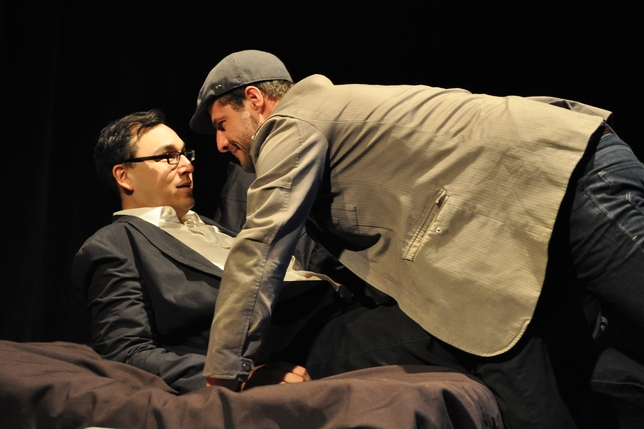 Last year I was impressed by playwright Chris Phillips' nerve and talent when I saw his Fringe Festival drama "Elysian Fields," even though the play was unsuccessful. Those qualities are also in evidence in his Fringe entry this year, "Pieces," despite its flaws. A drama examining the events that follow the grisly murder of an openly gay 55-year-oldHollywoodproducer, the show is a blaring screed against shallow A-listers who traffic in druggy boy toys. Phillips' righteous indignation is understandable but overdone, which undercuts its effectiveness.
Accused of the crime is 27-year-old Shane Holloway, who has lived with the exec for the last six years. He's assigned a public defender, Rory Dennis, who tried for a career in entertainment law but wasn't able to conform to the West Hollywood stereotype of looks, dress, and attitude that Rory says is required for success. The lawyer has a huge chip on his shoulder about how that powerful gay clique treats "lesser" gays, and it influences all his choices. Also on hand are Rory's colleague and friend, the combative prosecutor Mary Hamilton; Nick Goff, a crusading gay blogger covering the case; and Shane's friend Jonathan Nielson, the 40-something hottie who first hooked up with the lad before introducing him to the producer.
Phillips writes muscular dialogue and interesting people, but they don't always act in believable ways. In particular, I didn't buy that a man of Rory's integrity would suddenly sleep with the journalist writing about his case, a man for whom he has open contempt. Still, once you accept that it happened, Phillips charts the relationship persuasively. Rory is operatic in his anger, and the riveting and sexy Jonathan Gibson resourcefully finds many shadings in portraying it. Joe Briggs gives Nick the requisite attitude, charm, and heart. Chris Salvatore is an affecting Shane, Nina Millin is an appropriately blunt Mary, and Paolo Andino allows us intriguing glances beneath Jonathan's shiny surface. Brian Zimmer's forceful direction keeps the proceedings speeding apace, which prevents us from dwelling on the characters' occasionally dubious behavior.
Presented by Revolve Productions as part of the New York International Fringe Festival at theCherryLaneTheatre,38 Commerce St., NYC. Aug. 11–19. Remaining performances: Wed., Aug. 15, 6:30 p.m.; Thu., Aug. 16, 4:30 p.m.; Sun., Aug. 19, 8 p.m. (866) 468-7619 or www.fringenyc.org.
Critic's Score: B-