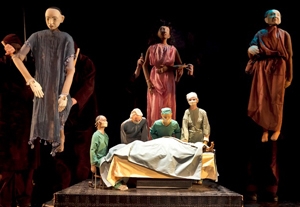 It's one of the oldest stories ever told: the classic struggle between gods and men. In every tradition, when humans challenge their place in the grand design, they are invariably punished for their hubris. In the Bible, Eve eats the apple and is cast out of the garden. In Greek mythology, after Prometheus steals fire from the gods as a gift to man, Zeus chains him to a rock, where an eagle tears out his liver every morning, only to have it grow back every night.
The archetypal tale is tailor-made for Theodora Skipitares, whose recent works use puppets to re-envision these mythic themes through a present-day lens. The contentious gods-versus-men relationship is prime fodder for puppetry. After all, what could be a more manifest display of man playing god than making inanimate forms magically come to life?
Skipitares' new version, "Prometheus Within," places the titan's punishment in the context of modern advances in stem-cell research, another arena in which mankind has often been accused of overstepping its bounds. Dozens of puppets, including Dolly the Sheep and a talking liver, populate the production in fragments, but the very human Jonathan Nosan, as the alternatingly boastful and mournful Prometheus, anchors the proceedings. A contortionist, Nosan is suspended in a cube of metal pipes, writhing around them in torturous positions. It's a brilliant reimagining. Rather than remaining completely immobile, Nosan displays Prometheus' agony to stunning effect while still providing a reminder of his wretched captivity. Three singing swans comment on his fate; the music, by the prodigiously talented Sxip Shirey, is beautifully pained, with twisting harmonies that reflect Nosan's postures.
Interpolated throughout are contemporary connections to Prometheus' narrative. Like the original myth, these additions are both triumphant and sobering. While stem cells can be used to restart a heart, they can also be taken without our permission, as in the case of Henrietta Lacks, whose HeLa cells became the first immortal cell line.
While the intertwining of the two story lines raises some insightful questions about the limits of human power and the control we have over our own bodies, both would merit from a round of edits. Skipitares draws a bit heedlessly from Aeschylus' "Prometheus Bound." The production strays off course with the introduction of Io, another mythic figure, who is punished by the jealous goddess Hera. In Aeschylus, Io's presence foreshadows the freeing of Prometheus by Hercules, her descendant. But here, with Skipitares' focus on other themes, Io is superfluous, included out of an unnecessary faithfulness to the source.
A similarly false note occurs later as a group of puppeteers discusses an Afghanistan war veteran who, with experimental therapy, has regenerated thigh muscle that was destroyed in a mortar attack. "Can't we figure out a way to keep people from losing their limbs in the first place?" one asks. It's an unusually one-dimensional question in a production that otherwise endeavors to show two sides to every story, in which heroes and villains, gods and men, are often one and the same.
Presented by La MaMa ETC, in association with Skysaver Productions, at La MaMa ETC, 66 E. Fourth St., NYC. April 13–29. Thu.–Sat., 7:30 p.m.; Sun., 2:30 p.m. (212) 475-7710 or www.lamama.org.