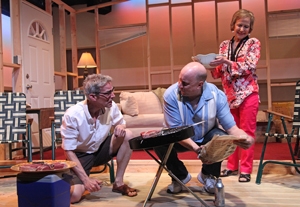 In every movie or play about the witness protection program, someone inevitably comes looking for the protected person. I applaud playwright Timothy Scott Harris for not subscribing to this cliché in his lukewarm "Protected," but without the lingering threat of impending disaster, Harris struggles to keep the stakes high in his wandering drama. The only people that come looking for Langley, a New Yorker who has been relocated to Albuquerque, N.M., are his new neighbors, and their neuroticisms are more annoying than intimidating.
Langley has moved away from his fast-paced urban lifestyle because he was involved in fraudulent activities, which he participated in to pay for his late wife's medical bills, and he has trouble adjusting to his newfound surroundings. Boxes remain unpacked and piled high on Craig Napoliello's skeletal set, while people from the community walk in uninvited. The prying Myrna tries to mother Langley while also attempting to set him up with her obsessive-compulsive daughter, Debra. He finds an unlikely friend in his co-worker Matt, who tries to boost Langley's social life with misunderstood motives. Cruthers, Langley's representation from the program, keeps stopping by to make sure he isn't causing trouble. Debra and Langley forge an unlikely relationship based purely on their mutual neuroses, and aside from commiserating the characters never grow past themselves.
The comic timing is off in this production, and director Thomas Coté hasn't found a way to make the blocking flow. Jeff Paul looks suitably uncomfortable as Langley. Bill Tatum and Matt Walker succeed in their supporting roles as Cruthers and Matt. Tatum possesses a nice foil of self-assuredness to Paul's Langley, and Walker balances the two sides of his character successfully. Dee Dee Friedman plays obsessive well as Debra, and she makes it somewhat easier to understand this flawed character. Cam Kornman feels stiff as Myrna, though she has a keen sense of dry humor that works in a few awkward scenes.
Harris presents an interesting character study, but if the characters never learn anything, it becomes difficult to relate to or to sympathize with them. Witness protection program or not, they should all try on new identities.
Presented by and at WorkShop Theater Company, 312 W. 36th St., NYC. April 28–May 19. Thu.–Sat., 8 p.m.; Sun., 3 p.m. (Additional performance Mon., May 7, 8 p.m.) (212) 352-3101, (866) 811-4111, www.theatermania.com, or www.workshoptheater.org. Casting coordinator: Matt Walker.