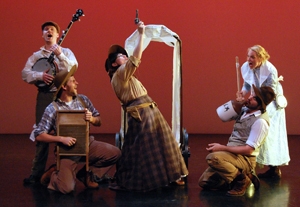 Based on Oregon Trail, the computer game popularized in the 1980s and '90s, "Quest for the West: Adventures on the Oregon Trail!" is a musical—with a book by Julie Congress, Ryan Emmons, Zachary Fithian, and Jen Neads and a score by Rebecca Greenstein and Danny Tieger—that plays for nostalgic laughs while offering promising hints of a deeper story.

Walking the fine line between gimmick and genuine comedy, the show, which follows five pioneers on a fraught trek to the West, offers ample opportunities for audience participation and frequent references to the original game. Some are gratuitous, but many are chuckle-worthy, such as when a character named Asdfjkl; recalls an eager player's impatient typing.

"Ailing for You," an otherwise traditional love ballad, is hilariously colored by the many diseases that unlucky settlers can contract along the trail. When the travelers arrive at Independence Rock, a notable landmark along their journey, the ensemble number honoring the wagon trains that came before them is surprisingly poignant. The cast features several strong singers, notably John Bambery as Jebediah and Scott Raymond Johnson as [Name 1].

Presented by No. 11 Productions as part of the New York International Fringe Festival at Theatre 80, 80 St. Mark's Place, NYC. Aug. 11–25. Remaining performances: Fri., Aug . 17, 5:30 and 10:30 p.m.; Tue., Aug. 21, 2 p.m.; Sat., Aug. 25, 7 p.m. (866) 468-7619 or www.fringenyc.org.