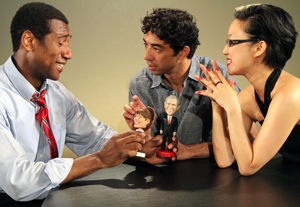 Playwright Gary Morgenstein may have pungent points to make about racism, politics, the Middle East, and other matters of current interest in "Right on Target." Unfortunately, they're all buried under the shambles of rickety overplotted dramaturgy and underwhelming comedy.

The script centers on Benjy Harrison (Robert McKay), an ultra-conservative African American whose wife, Karen (Noemi de la Puente), is white, Jewish, and liberal. Harrison's been fired from PBS in Washington, D.C., and decides to sue his boss, Susan (Jane Dashow), whom he calls a "socialist slut." He's aided by Karen's brother Kenny (Tom Lacey), a lawyer who has his own problems. Complications mount when Julie (Janet S. Kim), a curvaceous conservative blogger, convinces Benjy to run for Congress and independently wealthy Susan offers to invest in Karen's failing seashell-jewelry business in return for sexual favors.

There's also a Syrian dentist immigrant (Simcha Borenstein) who works as a hummus deliveryman but mainly delivers frail gag lines. Appropriate names are dropped for political hilarity—from Sarah Palin to Sean Penn—but little registers with any sense of urgency or freshness.

The cast seems game but foundering under de la Puente's direction, which gives new meaning to the word "unfocused." It does its part in making "Right on Target" anything but.

Self-presented as part of the New York International Fringe Festival at the Cherry Lane Theatre, 38 Commerce St., NYC. Aug. 11–24. Remaining performances: Wed., Aug. 15, 9:15 p.m.; Sat., Aug. 18, noon; Wed., Aug. 22, 2 p.m.; Fri., Aug. 24, 4:15 p.m. (866) 468-7619 or www.fringenyc.org. Casting by Carlo Fiorletta.