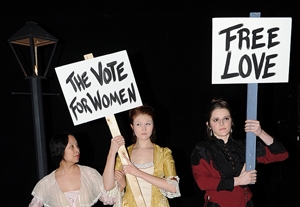 Not nearly soon enough into Richard Geha's interminable "Satan's Whore, Victoria Woodhull" (three hours long, with only a brief intermission), President Ulysses S. Grant meets with the title character and calls her Pandora, after Greek mythology's first woman. Woodhull was the first American woman to run for president—in 1872, against Grant's re-election, long before most women could vote. This is still the most interesting fact and potentially dramatic aspect of her biography, but here it almost gets lost in Geha's obsession with Woodhull's sexual history and outspoken advocacy of free love.
Except for the one scene with Grant (David "Zen" Mansley), Woodhull's presidential run is mentioned more in passing, with free love her only platform point. Geha, a clinical psychologist and psychoanalyst, instead offers a vivid Pandora's box of Victoria's suffering: childhood abuse by her snake-oil-salesman father (Tim Douglas), who pimps her out as a young spiritualist and sex toy and rapes her himself, her subsequent history as a prostitute, and her endless consensual affairs. Her ambiguous status as a suffragette icon is more implied than dealt with. (Susan B. Anthony eventually expunged Woodhull from the history of feminism, but you won't learn that here, nor will you get Woodhull's improbable later recanting of her agenda.) Geha's narrative is choppy in its chronology, with too many punch lines coming before the setup. His storytelling devices are a mixed bag: Is it to be the writing of her autobiography? Or her later trial for libel sent through the mails? Both? Neither?
On top of some unfocused name-dropping ("I was chatting with Mark Twain the other day") in lieu of historical context and the relentless and graphic depictions coming from Pandora's box—that cheap pun is in keeping with most of the text's double entendres during Woodhull's seductions—we have director Lissa Moira's kitchen-sink production, full of extraneous frou-frou. An obtrusive program of incidental music, astonishingly attributed to "composer" Chris Wade, appropriates such inapt anachronisms as "A Spoonful of Sugar," "YMCA," and "Pop Goes the Weasel." The silent-film title cards and clips (of yet more graphic sex) might be appropriate for a play set in the 1910s or '20s, but are some 40 years in the future for one set in 1872. A half-clad Irish maid (Gillian Brooke Todd), whose chief purpose seems to be to service both Cornelius Vanderbilt (Mansley again) and the hypocritical Reverend Henry Ward Beecher (Richard A. O'Brien), inexplicably dances her way into and around the action.
The performances are all over the place, with most of the cast of 13 playing some two dozen roles loudly and broadly, which leaches believability and humor. As Victoria, Kate Tenetko seems too youthful and insouciant to have suffered the horrors of her earlier life or have any insight into them. As Elizabeth Cady Stanton, a more pragmatic and accommodating suffragette than Anthony, Emily Bayard Blake offers a credible 19th-century sensibility, as does O'Brien as Beecher. As Victoria's defense attorney at her trial, Jacob Merrik Storms gives a deliciously riveting and amusing performance, but it seems to come from another era and perhaps another play.
Presented by Theater for the New City, in association with Primal Scene Productions, at Theater for the New City, 155 First Ave., NYC. March 22–April 8. Wed.–Sat., 8 p.m.; Sun. 3 p.m. (212) 868-4444 or www.smartix.com.