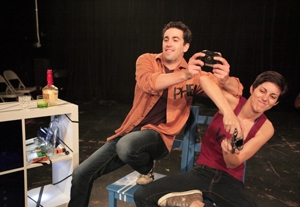 In any relationship there's a question you never want to hear: "Where is this thing going?" It's a query bound to strike fear into the hearts of daters everywhere, but it also applies to "The Bad Date Project," a play that attempts to be more than series of monologues but fails to become more than the sum of its parts.
The idea was born in 2009, when Troy Miller and Stephen Stocking, both single, began swapping stories of their most cringe-inducing dates. Realizing the comic potential (not to mention the schadenfreude that comes from hearing others' romantic missteps), they soon started hosting "bad date" storytelling parties. These real stories, as well as hundreds of other personal interviews, served as the basis for the play.
Miller (who directs) and Stocking make explicit comparisons to "Sex and the City"—the series' immortal line "He's just not that into you" is bandied about—as well as shows such as "The Vagina Monologues" and "My First Time," which are built on personal stories about a common experience. But whereas many of the tales in these forerunners can stand on their own, most of the accounts in "The Bad Date Project" are little more than dinner-party anecdotes. They're funny, but their impact fades fast. You'll always remember your first time, but will you really remember that guy who lived with his mom?
As if to counterbalance the flimsiness of the individual yarns, Stocking and Miller link them together through the exploits of Kate (Rachel Christopher) and Stephen (Stocking), through whose eyes we navigate the treacherous terrain of first meetings and one-night stands. Although the play starts off with Kate and Stephen together on a bad date of their own, we eventually see them "kissing a lot of frogs" before they meet their match. It goes without saying who that match might be. Unfortunately, Christopher and Stocking not only lack chemistry; they are not particularly likable individually. Encountering prospective suitors, their default mode ranges from disdain to disgust. After a while you start to wonder if the problem isn't their dates.
Interpolated throughout this loose narrative are tales from other anonymous daters, who take on material that doesn't "fit" with Kate or Stephen. These stories are often the most outrageous gems, and they highlight the strengths of the ensemble cast. Particularly notable is Matt Stapleton, whose wide-eyed disbelief when recounting one date's eating habits prompts guffaws, particularly when he contemplates seeing her again.
Both Kate and Stephen, coincidentally, have gay roommates—Val (Bridget Ori) and Tyler (Christopher Bonewitz)—who serve primarily as sounding boards for their chronicles of woe. Val and Tyler are searching for love too, but although they occasionally refer to the unique challenges of dating within the gay community, their experiences aren't addressed, just subsumed in the lengthy and undifferentiated parade of bad dates. That's the problem with "The Bad Date Project": A few of the stories are hilarious, but most of them blur together—and that's just bad luck.
Presented by Intimation Productions as part of the Planet Connections Theater Festivity at Culture Project, 45 Bleecker St., NYC. June 2–23. Remaining performances: Thu., June 7, 10 p.m.; Sun., June 10, 2 p.m.; Wed., June 13, 8 p.m.; Mon., June 18, 4 p.m.; Wed., June 20, 9:30 p.m.; Thu., June 21, 8 p.m.; Sat., June 23, 3 p.m. (212) 352-3101, (866) 811-4111 or www.theatermania.com, or www.planetconnections.org.