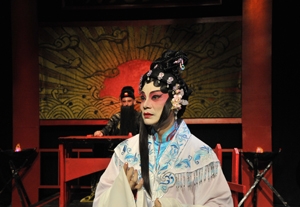 A dazzling star turn in an unexpected place is always welcome, and in Yangtze Repertory Theatre's production of "The Chalk Circle," Denver Chiu provides just that. Chiu, a Hong Kong–based male actor and singer who specializes in playing female roles in Cantonese opera, is never less than riveting as the centerpiece of director Joanna Chang's adaptation of this 13th-century work. As the only performer in the piece who sings arias, Chiu is ably supported by an ensemble prerecorded in China; his colorful costumes, designed by the China-based Yuan Quinn; and his self-applied elaborate makeup.
Chiu's character, Begonia Zhang, is a former prostitute who becomes a secondary bride of a wealthy provincial tax collector, Master Ma, with the hope that she will provide him with the male heir he lacks. Begonia does give birth to a boy, which upsets the balance of power between her and Ma's number one wife, Mistress Ma, who remains childless. Mistress Ma successfully conspires to kill her husband, pin the poisoning death on Begonia, and claim Begonia's child as her own, in order to inherit Ma's wealth. When the boy is five, a wise judge hears both women's sides of the story and adjudicates maternity by creating a circle of chalk on the ground, into which the boy is placed. Whichever woman is able to pull the child from the circle without hurting him will be judged the true mother.
For his 1944 play "The Caucasian Chalk Circle," Bertolt Brecht appropriated from the Chinese original that judicial device, the rival mothers, and even a character called the Singer, who advances the story. But Brecht, who also wrote the songs in collaboration with composer Paul Dessau, rendered his European characters more proletarian and his message more anti-establishment.
Unfortunately, Chiu's high tide has not lifted all boats. K.K. Wong's costumes for the other five principals and minimalist bright red gated set are effective. Shu-Mei Kwan, as Mistress Ma, and Bill Engst, as the magistrate, give credible performances, but some of the other supporting players seem inexperienced and underrehearsed. Although the play runs only 90 minutes, Chang's adaptation, while apparently adhering closely to the source material, seems choppy and repetitive, employing repeated flashbacks when a linear telling would make more sense and at least one court trial too many. Her trilingual dialogue (English, Cantonese, and Mandarin) may broaden the audience base, but the sometimes faulty supertitles are repetitious, too slow, and in at least one case call a key character by the wrong name. In her polyglot approach, Chang provides some English-language speeches for minor characters featuring distinctly anachronistic rap tendencies.
But then there's Chiu. He sings (in Cantonese), and much is forgiven.
Presented by Yangtze Repertory Theatre at Theater for the New City, 155 First Ave., NYC. May 5–20: Wed.–Sat., 8 p.m.; Sun., 3 p.m. (212) 868-4444 or www.smarttix.com (English); (718) 300-6754 or www.yangtze-rep-theatre.org (Chinese).