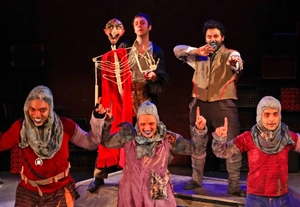 When I reviewed "The Deepest Play Ever: The Catharsis of Pathos" during its run at the 2006 New York International Fringe Festival, I found this satire of Brecht and Shakespeare to be overstuffed and overlong. There were too many wink-wink references to every play you had to read in theater-history class, from "The Caucasian Chalk Circle" to "Henry V," and it could have been cut by a good 20 minutes. Now, almost six years later, playwright Geoffrey Decas O'Connell and CollaborationTown, the company that mounted the original version, have tweaked and reshaped the work, and it's a faster and funnier evening, though still a tad bloated.
The basic framework remains: Mother LaMadre, a scheming Mother Courage figure (Chinasa Ogbuagu), and her bedraggled family trudge through a post-apocalyptic Europe in search of banished books while battling an army of art-hating zombies. There are now more satiric songs with tunes by musical director Michael Wells, lyrics by O'Connell, and additional lyrics by Wells and Jordan Seavey, lampooning the musical and dramatic conventions of Brecht's epic theater and Broadway razzmatazz. In one particularly clever sequence, directors Seavey and Lee Sunday Evans, who also choreographs, pay tribute to the Berliner Ensemble and Jerome Robbins, as the journey of Mother LaMadre and her troupe parallels that of Momma Rose and her kiddies from Seattle to Los Angeles in the "Some People" reprise from "Gypsy."
I also enjoyed the drippy ballad "Happiness Does Not Last Long in the Post-Post-Apocalypse," sung by Emily Walton as Yvette LaGuerre, a flinty camp prostitute. Walton combines the soulful angst of Lotte Lenya with the goofy comedy of Cyndi Lauper to create a creature who is both cartoon and real woman. Likewise, T.J. Witham takes the absurd doo-wop lament "My Baby Turned Into a Zombie" and conflates a "Saturday Night Live" sketch with a moving sequence. Most striking is Boo Killebrew as KitKat, a parody of Mother Courage's mute daughter, Kattrin. As she did in 2006, Killebrew utters nonsense syllables and employs shockingly spastic body language, yet she clearly expresses her character's intentions. She creates a weirdly touching moment as KitKat grieves over the death of her lover, the zombie fighter Crocothemis. Accompanied by Wells on the ukulele, Killebrew sweetly and sadly sings a pathetic ballad in KitKat's indecipherable language while Wells translates. The song is about the trash in KitKat's trunk, but Killebrew makes it heartbreaking.
The new production also benefits from the work of Deb O, who designed the set, props, and puppets. By means of milk cartons, detergent bottles, and other found objects, the New Ohio Theatre is transformed into a bizarre wasteland littered with the debris of decades of pop culture.
My only quarrel is the same as before: O'Donnell and company don't know when to quit. The material is sharper and funnier, but there's still too much of it. I found myself losing interest long before the final curtain. A judicious editing job would make "The Deepest Play Ever" even more effective.
Presented by CollaborationTown at the New Ohio Theatre, 154 Christopher St., NYC. March 14–25. Mon., Wed.–Fri., 7:30 p.m.; Sat., 5 and 9 p.m. (212) 868-4444 or www.smarttix.com.