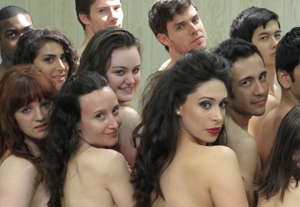 Take a dash of Greek mythology, mix in some Shakespearean plotting, add a couple of contemporary wisecracks, top it off with a raft of seminaked actors, and you have the recipe for "The Empress of Sex," an amusing comedy currently on view in the Planet Connections Theatre Festivity. But don't let the overinflated language, stylized acting, and copious nudity fool you; playwright Duncan Pflaster has more in mind than mere silliness or titillation. Underneath the high jinks there is ample evidence of a canny dramatist intent on exploring the complex relationship between love and sex without sacrificing laughs or a genuinely touching payoff.
The story is set on a Greek island ruled by the Empress Salacia. Having been betrayed years ago by her lover Agis, she has created a society where sex is celebrated and love criminalized. Agis, though, has realized that he truly loves Salacia, and to win her back he goes to her island disguised as a woman named Penelope. He's accompanied by his sister Adriana, who is disguised as Penelope's brother Jason, and their servant Coriolanus.
Their arrival causes the island's veneer of sexual bliss to crack. Mousiki, Salacia's bard, finds himself falling in love with Coriolanus; Salacia's major domo, Portieris, falls hard for Penelope; and Adriana/Jason does the same for him. When the identities of Agis and Adriana are finally made known, a series of revelations is set in motion that leads to the discovery that everyone on the island except Salacia is in love. Then even she has to admit that she still cares for Agis. The play ends with a celebration of love in its multiplicity of forms.
Director Glory Kadigan finds delightful ways to deploy her cast, maneuvering them into and out of various embraces and couplings without sinking into coarseness or campiness. In this she is abetted by a game company of actors, several of whom deliver standout performances. Catherine LeFrere is a regal but funny Salacia, Walter Brandes brings a delightful mix of confidence and confusion to Portieris, Antonio Miniño's Mousiki is both goofy and grounded, and Matthew Menendez steals every scene his Coriolanus flits through.
The production's technical aspects are handled competently, but Izzy Fields' costumes rate a special mention. They manage to summon an Attic setting without overburdening the fancy of the piece with academic verisimilitude. And as exemplified by Salacia's hilarious breast-baring bustier, Fields finds just the right balance between flesh and fabric.
"The Empress of Sex" began sluggishly on the night I attended, but it grew in energy and fun as the evening progressed. Hopefully, that roughness was due to opening-night jitters, and future performances will be smoother and more confident.
Presented by G-Money Productions as part of the Planet Connections Theatre Festivity at Culture Project, 45 Bleecker St., NYC. June 4–22. Remaining performances: Wed., June 6, 9:30 p.m.; Sat., June 9, 5:30 p.m.; Tue., June 12, 4 p.m.; Wed., June 13, 9 p.m.; Sun., June 17, 9 p.m.; Mon., June 18, 4:30 p.m.; Fri., June 22, 9:30 p.m. (212) 352-3101, (866) 811-4111, www.theatermania.com, or www.planetconnections.org.