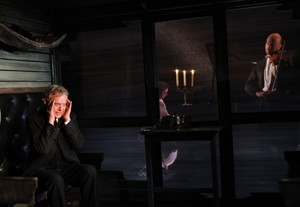 Any adaptation of Tolstoy's short story 'The Kreutzer Sonata' has set the bar rather high for itself, because it takes as its subject material not just one of the best examples of an acknowledged master's medium of choice but one of the greatest short stories (well, novellas) ever written. Nancy Harris' 80-minute script for the Gate Theatre's production at La MaMa, here from London making its American debut, does exactly what an adaptation should do: It avoids worrying about whether or not it's being faithful enough and simply tells us the story. This puts the audience in the position of the narrator in the original work and puts the astonishing Hilton McRae in the driver's seat.
It's not quite right to say that McRae brings the story to life before our eyes, because Tolstoy's work is actually about a man named Pozdynyshev on a train recounting to the narrator an ever-more-disturbing tale of inestimable woe. McRae and director Natalie Abrahami, on a beautiful set by Chloe Lamford that looks like a somewhat dilapidated train car, give us the thing itself: a guilty man seeking absolution by offering up his terrible confession to every passerby as a form of penance. I suppose you might have to read the story to be able to appreciate how thoroughly you're being transported into the book, but frankly you ought to have read it already.
McRae layers Pozdynyshev's every word with meaning, from his forced nonchalance as he begins speaking to his agonizing guilt as he nears the climax. It's the little changes in his diction, many of which are written into the script, that keep the emotional extremes of 'The Kreutzer Sonata' from ringing false. McRae's jealous husband recalls how, though his marriage went sour, he loved to watch his children nurse. 'That sight never failed to melt my…,' he says and then trails off.
Even better, McRae manages to communicate things that Pozdynyshev doesn't know about his wife (Sophie Scott) and her supposed lover, a violinist named Trukhachevski (Tobias Beer). Scott and Beer never speak, but they play the violin and the piano beautifully.
Though the illustrative impulse that brings the other two performers onstage is an understandable one, I wish Abrahami had curbed it somewhat. It's wonderful to hear parts of Beethoven's sonata as McRae explains what the sound of that music did to his character's soul, yet there's no way to give the show's climax any more heft than it already has as plain words coming out of the man's mouth. There's too much window-dressing near the end of the play, but that doesn't stop the little explosions of McRae's performance from mounting up like popcorn in the tiny venue until the theater feels as though it's going to burst.

Presented by and at La MaMa ETC, 74A E. Fourth St., NYC. March 11–25. Thu.–Sat., 7:30 p.m.; Sun., 2:30 p.m. (Additional performance Wed., March 21, 7:30 p.m.) (212) 475-7710 or www.lamama.org.