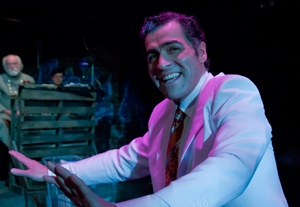 Those theatergoers who helped make "The Motherf**ker With the Hat" a hit on Broadway will recognize in Stephen Adly Guirgis' earlier play "The Last Days of Judas Iscariot" the author's gift for finding the lyrical in street language and for presenting outcasts with compassion and complexity.
Who has been more of an outcast over the last couple of millennia than Judas? T. Schreiber Studio & Theater's revival of Guirgis' 2005 play, directed by famed acting teacher Terry Schreiber, arrives in a season that seems full of the apostle who betrayed Jesus for 30 pieces of silver. Judas is featured in the Broadway revivals of "Godspell" and "Jesus Christ Superstar" and is even the subject of a Lady Gaga song. The Judas in "Last Days" is by far the most layered but also the most belabored.
The bulk of Guirgis' play is a retrial of Judas in a courtroom in purgatory, with the testimony not just that of the central characters but also coming from such expert witnesses as Mother Teresa (Julia Kelly) and Sigmund Freud (Alex Crow Reimers). The arguments are at times witty and intellectually stimulating and reveal the playwright's deep knowledge of Christian theology and its contradictions. Laced throughout the work are intriguing monologues, some of which are full of playfully anachronistic street talk: Saint Monica (Erica Lauren McLaughlin) explains how "I nagged God's ass to save" her son, who stopped "bangin' whores and sippin' on some wine" and became St. Augustine.
However, with a sharply uneven cast of 19 and a running time of nearly three-and-a-half hours—Schreiber has for some reason directed this production so that it is at least a half-hour longer than the original—one yearns for a highlights reel. This would include the interrogation of Ben Prayz's Caiaphas the Elder, which confronts head on the explosive issue of anti-Semitism; the sparring with Omar Bustamante's Pontius Pilate, here a street-gang leader, toothpick in mouth, his black leather jacket topped with a red cape from the Roman Empire; and especially the scenes with Stephen Alan Wilson's Satan, a laid-back, seen-it-all lounge singer in tuxedo with tie askew, reasonable-sounding until he casually turns vicious.
I'm not sure what it says about "The Last Days of Judas Iscariot" that the bad guys are the most memorable, but it is a testament to Guirgis' talent as a playwright that we're not always sure they're the bad guys.
Presented by and at T. Schreiber Studio & Theatre, 151 W. 26th St., 7th floor, NYC. March 3–April 8. Wed.–Fri., 8 p.m.; Sat., 2 and 8 p.m.; Sun., 3 p.m. (212) 352-3101, (866) 811-4111, www.theatermania.com, or www.tschreiber.org.