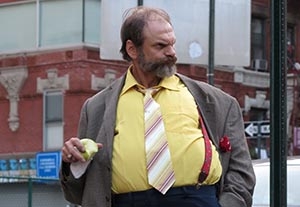 The distractions that come from outdoor Shakespeare are different in a parking lot on the Lower East Side than in the Globe Theater in England or even in the Delacorte Theater in Central Park. The night I attended "The Merry Wives of Windsor," the latest in the two-decade history of the "Shakespeare in the Park(ing) Lot" free summer theater, a fire truck blasted by at ear-injuring volume, followed half an hour later by a police-car siren and then by a member of the audience who took at least 30 photographs using a rapid-fire, highly illuminating flash.
Most of these distractions (I'll except the photographer) were a fitting complement to director Hamilton Clancy's crowd-pleasing production, as he has moved the play's setting to the Lower East Side and turned Shakespeare's convoluted tale of sexual misadventure into a fight over the neighborhood's gentrification. This conceit is most evident in Lisa Renee Jordan's sometimes witty costumes and Jen Varbalow's set, a cartoonlike backdrop of towers and tenements that the actors peep out of from opened panels à la "Laugh-In."
Just to be clear: Although the advance press said Shakespeare's play has been renamed "The Merry Wives of Windsor Towers" (Windsor Towers being a fictional new condo), the two-page program distributed before the performance listed the original title, and the script is purely Shakespeare, albeit pared down. Some would say it's not pared down enough, given that the show lasts two and a half hours without intermission.
The 17-member multiethnic cast, with acting that is broad but mostly impressive, smartly reflects the diversity of the neighborhood. The host of the inn, for example, is now a grocery-store owner, played with precision by Sajeev Pillai. Other standouts include David Marantz, as Falstaff, meant to appear as an exaggerated real estate operator in fat padding and a shiny disheveled suit; Karla Hendrick, as one of Falstaff's would-be conquests, Mistress Ford; Jean Marc Russ, as the would-be cuckold Master Ford; and, in a small but memorable role, Fayce Hafnoui, as a never-still page dressed in a bike-messenger outfit with "Bangladesh" emblazoned on the chest. But all the cast members exhibit a much-appreciated ability to project. One only wishes the director had told them that it is OK to pause for a few moments when a fire engine shrieks by.
Presented by the Drilling Company at the Municipal Parking Lot at Ludlow Street and Broome Street, NYC. July 14–28. Thu.–Sat., 8 p.m. (212) 873-9050 or www.shakespeareintheparkinglot.com.