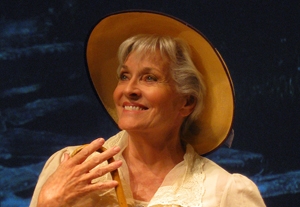 I have loved Edgar Lee Master's "Spoon River Anthology" since I was cast in a high school production of the book of poetic epitaphs' 1963 Broadway stage adaptation by Charles Aidman. That's a fine version. Nevertheless, actor Lee Meriwether has had the excellent idea to create her own distillation, using only the women in Master's famed graveyard. "The Women of Spoon River: Their Voices From the Hill" vividly illustrates the challenges facing the fairer sex in turn-of-the-20th-century rural Illinois (and by extension America).

Director Jim Hesselman aided the actor in her adaptation and does the same as director. Inhabiting 26 characters, the terrific Meriwether makes them wonderfully specific through voice, physicality, and a few items of props and apparel—a cane, a shawl, a hat—while finding a vibrant inner life for each. I was especially taken with her thwarted writer ("Sex is the curse of life!") and the serial widow who somehow got richer and richer until a husband turned the tables and bumped her off.

At the performance attended, composer Ken Atkins' soundscape of original music, voices, and environmental noises seemed to work only intermittently. It enhanced the proceedings when present, but Meriwether didn't need it. She commanded the stage all on her own.

Presented by Lee Meriwether and Theater Island Productions as part of the New York International Fringe Festival at the SoHo Playhouse, 15 Vandam St., NYC. Aug. 10–17. Remaining performances: Tue., Aug. 14, 9 p.m.; Fri., Aug. 17, 5:15 p.m. (866) 468-7619 or www.fringenyc.org.