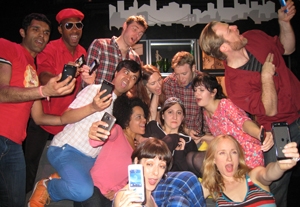 Being a 20-something in any city is tough, but New York's fast-paced urban lifestyle makes coming of age more difficult. Luckily, Off-Off-Broadway theater provides a creative outlet for isolated and weary millennials to present work about their quest for identity and self-acceptance. The Management has carved out a niche producing work centered on this theme, but sometimes the search for connection doesn't translate. Director Meg Sturiano crafts a tight ensemble piece in "Your Boyfriend May Be Imaginary," but playwright Larry Kunofsky never moves past the clichés of post-college life.
It all starts when Marci loses her boyfriend. The self-aware, self-proclaimed loner, who could care less about the party scene everyone else is into, is simply out, in her pajamas no less, looking for her off-the-grid significant other. However, due to her low social status, no one believes that she could be romantically involved. The domineering Beth constantly looks for a hole in Marci's argument, while shallow hanger-on Cassandra follows Beth's lead. Meanwhile, Marci's best friend, Denise, is not-so-secretly in love with her. Marci hops from party to party, searching for her alleged boyfriend, encountering typical Manhattan types—from the shallow hot guy to the self-involved gay fashion plate—and longing for more than the surface-level interactions she is offered.
Darcy Fowler delivers a touching performance as Marci, evoking a sympathy, self-awareness, and vulnerability that are inherently relatable to all 20-somethings. Maya Lawson is charming as Denise. Risa Sarachan, as Casandra, does vapid well, while Kirsten Hopkins is adequately overbearing as Beth. Quinlan Corbett is exactly what his character's name, Hunky Dave, suggests. Though Debargo Sanyal, an adept comic actor, succeeds in the over-the-top shallow aspects of Toddwhatshisname, he struggles to capture his character's more dramatic moments.
Sturiano makes maximum use of the small stage, aided by Kyle Dixon's convertible set, and the 12-person cast moves nimbly through the space. Kunofsky's dialogue, however, traffics in stereotypes, and many of his lines—"We all need people," "It's not a crime to be lonely"—sound like they should be stitched on a pillow. Unfortunately, that pillow lacks the stuffing it needs to comfort and support in the way it should.
Presented by Horse Trade Theater Group at Under St. Marks, 94 St. Marks Place, NYC. April 7–28. Thu.–Sat., 8 p.m. (212) 868-4444 or www.smarttix.com.