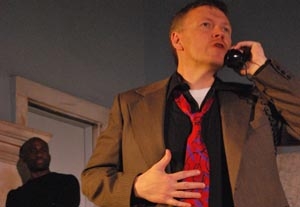 As depicted by playwright-director Wallace Norman, the composer and music critic Virgil Thomson was one of the most irascible, impossible, and utterly obstreperous artists of the 20th century. Thomson would no doubt agree with him and then suggest three better adjectives.
Writing in collaboration with composer Larry Alan Smith, Norman divides
Oh Virgil
!
A Theatrical Portrait
into five scenes. Each is peppered with songs performed by cast members; recorded musical selections are also played at the top of the show, in between and underneath scenes. The performers portray significant figures from Thomson's long, enviable life, such as Gertrude Stein (with whom he wrote two operas,
Four Saints in Three Acts
and
The Mother of Us All
), played by soprano Watson Heintz, and Ogden Reid (the New York Herald Tribune publisher who hired Thomson to write music criticism from 1940 to 1954), played by baritone Troy Valjean Rucker. Both Heintz and Rucker have lovely voices and do more than mere justice to the flirtatious, vivacious melodic lines that make Thomson's best work shimmer.
Victoria Devany does an equally effective job ricocheting among four roles, including Thomson's ever-berated assistant Leana. Dan Via is charming as a handsome visitor to the composer's apartment at the Hotel Chelsea.
Fundamentally, though, this should be Thomson's show—certainly the composer's monumental ego would have expected it. So it is odd that Norman takes a while before introducing him. First we listen to the overture from
The Mother of Us All
, and then we observe the performers dress the stage with costumes and props. Long before long-faced Victor Truro arrives as Thomson, offering a characterization both indigestion-inducing and wittily spot-on, one fears the 75-minute piece might shortchange a legend who refused to be outshone.
Already
Oh Virgil
! seems not terribly concerned with presenting a strict chronology of Thomson's life—although tales of 1920s Paris, the salon of Stein and Alice B. Toklas, the infuriating music criticism, and the composer's internal conflicts over his homosexuality provide Norman with sheafs of anecdotes to draw upon and dramatic directions to pursue. Yet I think he can go further; he can consider skirting altogether some of the drearier pitfalls of the biopic genre. Indeed,
Oh Virgil
! doesn't yet have a structure that feels Thomsonesque. Perhaps Norman could arrange the scenes randomly, like a Stein-style word collage, and let the music fill the moment. Certainly it would achieve the play's goal: to entice us to revisit Thomson's life and music. More than that, Norman could prove, as Thomson did, that boundaries are meant to be broken the moment they are drawn.
Presented by Woodstock Fringe in association with Judson Artsat Judson Memorial Church, 55 Washington Square South
.,
NYC
.
May 1
–
10. Fri
.–
Sat
.,
8 p.m
.;
Sun
.,
3 p.m
.
(
845
)
810-0123 or www.woodstockfringe.org
.