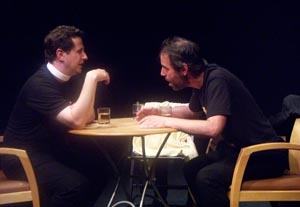 Geoffrey Scheer opens his one-hour play "On the Eighth Day..." with a priest, a rabbi, and a minister entering what appears to be a bar as if they were setting up a punch line for an old gag. The trio stands silently for a minute, then the minister says, "It's never not funny." Sorry, but this time it's not. Scheer, as both playwright and director, tries for a combination comedy and drama on the nature of faith but pushes too hard on both the laugh and tear buttons, resulting in forced shtick and overwrought melodrama.
It's revealed that this odd assortment of friends isn't really in a drinking establishment but in the priest's rectory basement. They've gathered for a meeting of their interfaith organization. Two have surprising news: The minister, who is a lesbian, is pregnant by artificial insemination, and the priest is leaving the church. How the three deal with these jolts is the core of Scheer's play. It's an interesting premise, and a few thoughtful ideas are raised, but Scheer tries too hard to make these religious practitioners human by having them curse excessively, joke about abortion and child molestation, and generally let their hair down. When things get serious, they are equally over the top, with shouting matches substituting for credible interaction.
The only believable moments are provided by Amy Albert's minister during a long monologue about finding her faith at a gay church. For a few minutes, it seemed as if there was a real person talking about an important life experience, rather than an actor telling jokes or getting weepy.
Presented by Write Club NYC
at 59E59 Theaters, 59 E. 59th St
.,
NYC
.
Aug. 8
–
22. Tue
.,
7:30 p.m
.;
Thu. and Sat
.,
8:30 p.m
. (
212
)
279-4200 or www.ticketcentral.com
.