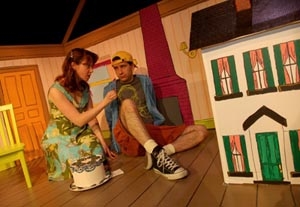 Playwright Amy Fox's writing has a surface quirkiness that doesn't quite disguise a disturbing worldview. In her
One Thing I Like to Say Is
, indulgent men are destined to lash out at their loved ones in anger and then leave, while the women hide from the disappointments of life in a world of make believe. Even the happy ending that Fox has provided for her characters is rooted in a precarious fantasy.
Under Terry Berliner's direction, the play's focus becomes the whimsical bond between siblings Lena (Kendra Mylnechuk, alternating in the role with Brenda Jean Foley) and Toby (Brian Gillespie). Now estranged, brother and sister still seek refuge in childhood fantasies of Scottish butlers and dollhouse characters. Fox shows a sure hand with telling details but irritatingly shies away from the concrete. Much is made of the fact that the grown-up Toby and Lena have not seen one other for 16 years, but we're never given a specific time or place. That leaves unexplained how Lena can be close enough to lend a hand as Toby's marriage to his wife, Sam (Jolie Curtsinger), begins to fall apart and yet never run into either Toby or Sam while running errands. And though Fox briefly describes their alcoholic, rageaholic father and adulterous mother, neither parent seems quite terrible enough to drive Lena and Toby to become as borderline unhinged as they are.
The quartet of actors (including Michael Mattie as a 16-year-old) is excellent throughout, though they're stymied when Fox creates arbitrary confusion in the play's final third. As the nearly delusional Lena, Mylnechuk wisely never overplays the cutesiness of a grown woman who still finds solace in a dollhouse, while Mattie thankfully never condescends to his character's youth. But it's Curtsinger as the only grounded person in Toby and Lena's world whom the audience misses most whenever she's offstage. Until the play's final moments, the clear-eyed Sam is the only one who fights the temptation to avert her eyes from reality. For a while, she knows what Lena and Toby don't: Finding comfort in a fantasy world might relieve the pain, but the self-conscious whimsy ultimately grows grating.
Presented by the Cockeyed Optimists and John Chattertonat Access Theater, 380 Broadway, NYC
.
April 15
–
May 3. Wed
.–
Sat
.,
8 p.m
.;
Sun
.,
2 p.m
.
(
212
)
868-4444 or www.smarttix.com
.