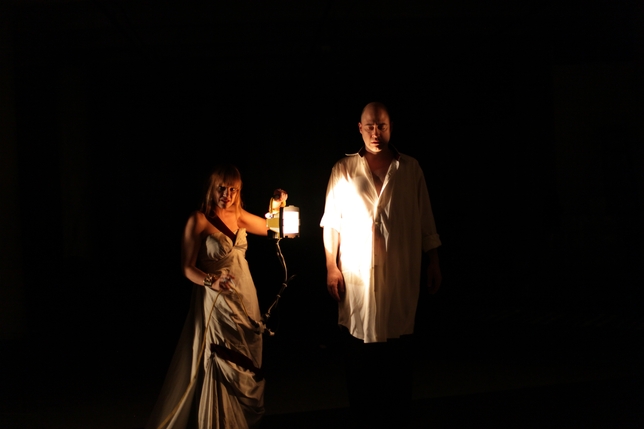 In "Open Up, Hadrian," the earnest but muddled new play about the Roman Emperor Hadrian, our hero has it tough. Drinking wine and surrounded by his adoring mother, loyal wife, and gorgeous male lover, he casually dispatches troops to far-off rebellions, pronounces upon the ascendance of man over theology, and dreams of rebuilding the Greek Pantheon. Playwright Javierantonio González and director Meiyin Wang wish to condemn Hadrian for his near-sighted aestheticism. They have his wife, his lover (who is also his slave), and his mother take turns lying beneath his feet as he poses for a new sculpture. Later, Hadrian and his entourage lounge around an isolated artistic villa, complaining that there is no "relevant" theater to offer the Roman people while remaining oblivious to the silent servants holding their glasses. Eventually, violence disrupts their happy pastoral, leaving Hadrian and his family traumatized and scattered: so much for the privileged sphere of beauty and philosophy.
There are two obstacles to González and Wang's attempt to re-litigate "art for art's sake." The first is the style of their production. They move the audience through 20,000 square feet of the Sunset Park warehouse, delivering much of the performance in a cavernous space with poor sightlines and worse acoustics. If the play were as immersive as its set (designed with some captivating touches by Jian Jung), not hearing the dialogue might be interesting, but González's straightforward narrative is lost in its overwhelming mise en scène.
The second obstacle is their choice of subject matter. Hadrian, who historically was one of Rome's most capable rulers, is an unconventional choice to frame a contest between idealism and realpolitik. The best González can come up with for civil unrest is a homophobic "protest parade" by the British. The play focuses, therefore, on Hadrian's slave-lover, Antinous, who never fits comfortably among the court's inner circle. As played by the stoic Marcos Toledo, Antinous shows little sign of a stifled spirit, making his ultimate decision to punish Hadrian a confusing denouement. In fact, Hadrian comes off as barely responsible for whatever else befalls him, so it's unclear why he deserves his harsh fate.
With the exception of a clever performance by B. Brian Argotsinger as the sculptor, the cast offers little support to the proceedings. David Skeist, as Hadrian, anchors the show but lacks the charisma to keep our attention. Doris Mirescu plays Hadrian's mother as a grotesque harpy whose motivations are as bewildering as her actions are extreme. Laura Butler Rivera brings some maturity to Hadrian's wife, but except for a tender lesbian love affair that is never quite folded into the plot, she is nearly as neglected by her playwright as by her husband.
Presented by Caborca and Magic Futurebox at Magic Futurebox, 55 33rd St, 4th floor, Brooklyn, N.Y. Sept. 12–Oct. 6. www.openuphadrian.eventbrite.com.
Critic's Score: C-