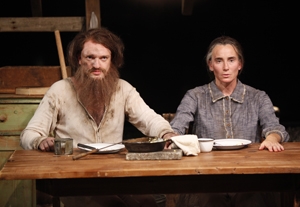 In a direct inversion of "Blasted," her last directorial outing at Soho Rep, Sarah Benson has chosen a play that moves from a ruined exterior landscape to an interior domestic space, concluding not with searing sociopolitical commentary but with the exposed scars of a woman's guilt-ravaged heart. That woman is Orange (Stephanie Roth Haberle), a loner in a lonelier cabin who lets a drifting scavenger named Hat into her home and her bed, only to find him digging up unpleasant secrets. These involve an abandoned daughter named Grace, who may or may not be dead but who nonetheless wanders the stage and is played adequately by Reyna de Courcy.
  For the most part, all the components of "Orange, Hat & Grace" are in sync. Set designer Rachel 'Hauck's rustic set, with the eeriness of a backwoods horror film, matches playwright Gregory S. Moss' reduced, effortful language and Benson's meticulously paced direction. The rather spectacular reveal of Orange's cabin a few scenes into the play grants a gravitas to the domestic scenes that follow. If there is a flaw, it is that Haberle's sandstone coldness makes Orange's insistence that she is refined ("Watch your language; I am a lady") and hides a "big heart" hard to believe. When called upon to be chilling, though, there are no sharper weapons than Haberle's sotto voce and piercingly sharp gaze. 
  Her tender chemistry with Matthew Maher, who plays Hat as a wild animal with a heart of plush, carries most of the show. And this is part of the problem. The ghostly child who walks in the woods and the guilt gnawing at Orange's heart never hold much interest beyond their general creepiness. Moss, taking his cues from Sam Shepard's "Buried Child" and Maria Irene Fornes' "Mud," wants to unearth the primal energies underlying everyday human relations. But when he reduces his characters to allegories of Innocence and Shame, he loses sight of our own sympathies and our need to feel that the onstage world has something to do with us. 
Presented by and at Soho Rep, 46 Walker St., NYC. Sept. 22–Oct. 10. Tue.–Sun., 7:30 p.m. (212) 352-3101, (866) 811-4111, www.theatermania.com, or www.sohorep.org.