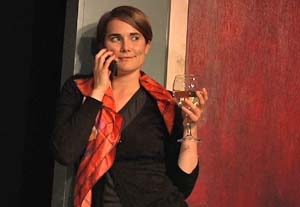 Death is no laughing matter, but the way the living deal with it is—or at least it can be. In the course of an hour, Lauren Olson's one-woman show weaves together vignettes of friends, relatives, and acquaintances awkwardly expressing their sympathy for the loss of her mother. The result is a display of well-executed self-therapy.
While Olson's experiences are familiar, the humor in "Our Condolences" is too inconsistent, unsuccessfully trying to veil the grief. The last scene clinches a patchy script as Olson tries to console another's loss but cannot due to a faulty voice-messaging system. The humor is muddled, and the show ends with frustration.
Despite the script, Olson's dynamic and earnest performance comes to the rescue. Her portrayal of her young cousin acting out "Footprints in the Sand" is endearing and comical. Rachel Hamilton's direction keeps the transitions smooth. 
Presented by Lauren Olson as part of the New York International Fringe Festival at the Studio @ Cherry Lane Theatre, 38 Commerce St., NYC. Aug. 14–28. Remaining performances: Tue., Aug. 24, 2 p.m.; Wed., Aug. 25, 8 p.m.; Sat., Aug. 28, 5:30 p.m. (866) 468-7619 or
www.fringenyc.org
.