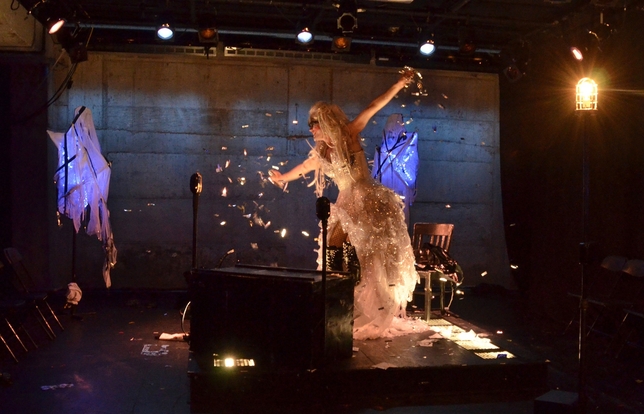 There's no two ways about it. Author-director-actor James Fluhr's "Our Lady" is as stunning a piece of performance art as you're ever likely to encounter. Created to counter the homophobic bigotry that has recently led to a string of boys taking their own lives due to bullying and hatred, "Our Lady" doesn't settle for earnest docudrama. It's a thrilling, theatrically imaginative, emotionally wrenching and redeeming act of boundless love.
Fluhr himself has been the target of scorn that caused him to contemplate suicide, especially from his father, who viciously objected to his effeminate son dressing in drag and using makeup. Fluhr's Southern mom, whom he inhabits with wit and precision, accepted him unconditionally and did what she could to protect him. She also made up the story of Our Lady, a goddess who she promised would arrive and save the day when her son most needed her. Fluhr has decided to fulfill the prophecy by creating her, and when she strides onstage in the 80-minute show's second half, Our Lady is wonderfully outrageous, eminently fierce, and entirely unstoppable.
The show's extraordinary design—Dan Alaimo's lights, Adrienne Carlile's set, Liz Wallbridge's sound, and Ameera Ali's costumes—is integral to its success. I normally take notes when reviewing, but my pen dried up soon after the show began. I have no doubt the culprit was Our Lady, demanding that I give her at every moment my complete and undivided attention. She deserved it, and she deserves yours. Miss "Our Lady" at your peril.
Presented by James Fluhr & Company as part of the New York International Fringe Festival at the Living Theatre,21 Clinton St., NYC. Aug. 13–25. Remaining performances: Mon., Aug. 20, 4 p.m.; Thu., Aug. 23, 10 p.m.; Sat., Aug. 25, noon. (866) 468-7619 or www.fringenyc.org.
Critic's score: A+