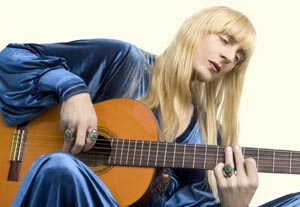 A very strange thing happens toward the end of John Kelly's
Paved Paradise Redux
:
The Art of Joni Mitchell
, a follow-up to his 1997 Obie-winning tribute to the pop-rock icon. After two hours of impersonating Mitchell, Kelly strips off his flowing blond wig and granny dress and performs his final number and two encores as himself. He still uses his beautiful countertenor to approximate Mitchell's soulful soprano, but no longer attempting to copy her physical persona, Kelly makes a direct connection with the audience and is truly moving. Without the artifice of camp or irony—I wasn't sure what he was going for—this artist taps into the sad, achingly clear observations Mitchell makes on personal relationships and the state of our world.
Apart from this clear-eyed climax, the evening left me mystified. Backed by keyboardist Zecca Esquibel and bassist Paul Ossola, Kelly re-creates a Mitchell concert, accompanying himself on a variety of guitars and a dulcimer for some of her most recognizable hits ("Circle Game," "A Case of You," "Woodstock"). He performs with an eerie precision, hitting Mitchell's high notes with stunning accuracy, and his musicianship is admirable, but he doesn't get under the skin of the songs until he peels off the makeup.
Mitchell is not the usual drag subject such as Judy Garland, Cher, or Barbra Streisand. She doesn't have exaggerated individual eccentricities an impersonator can pick up on and lampoon. Nevertheless, the packed audience howled at his every gesture and grimace between songs. If Kelly had concentrated on the subtext of the music rather than re-creating an image, this would have been a real evening in paradise.
Presented by Tweed TheaterWorks in association with Robbi Kearnsat Abrons Arts Center, Henry Street Settlement, 466 Grand St
.,
NYC
.
June 18
–
27. Thu
.–
Sun
.,
8 p.m
.
(
212
)
352-3101
, (
866
)
811-4111, www.theatermania.com, or www.abronsartscenter.org
.