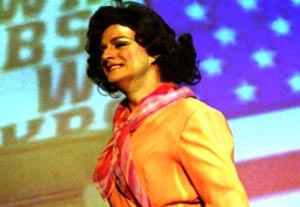 What is it with beauty pageant runners-up hating on homos? More than 30 years before Carrie Prejean pissed off Perez Hilton with her anti-gay belief in "opposite marriage," Miss America wannabe Anita Bryant waged a full-out war against gays in Florida. With her 1977 Save Our Children campaign, she quickly galvanized the gay rights movement and became one of the most reviled homophobes in history.
Too bad writer-performer David Lee's scattered solo show doesn't posses the same kind of visceral power. Portraying Bryant as a dippy sponsorship-whoring celebutard, Lee borrows a bit too much from drag cabaret shtick: Otherwise-clever devices—such as protractedly lip-synching Bryant's sappy songs or conducting a lengthy interview with a Ken doll—stifle the show's momentum. And while skewering Bryant proves to be nauseatingly relevant, one wishes Lee would drop the camp goofiness and really give old Anita her just desserts.
Presented by Kangagirl Productions as part of the New York International Fringe Festivalat the Actors' Playhouse, 100 Seventh Ave. South, NYC
.
Aug. 15
–
29. Remaining performances
:
Wed
.,
Aug. 19, 3:45 p.m
.;
Sat
.,
Aug. 22, 7:45 p.m
.; .
Sat
.,
Aug. 29, 2:15 p.m
.
(
866
)
468-7619 or www.fringenyc.org
.