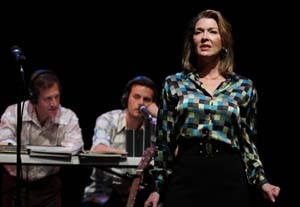 Trying to refashion a flop musical into something that works is a dicey business at best. One thing is essential: The material, however flawed, must have intrinsic quality. I missed "Platinum" on Broadway (I had comps but ended up having to work that night, so I only heard about it from my best friend), but I caught it at the Village Gate in a reworked version called "Sunset" that was notable mostly for Tammy Grimes looking like she desperately wanted to be, as the Old Lady in "Candide" puts it, "anywhere but here." Now director-reviser Ben West has gone back to the "Platinum" template. It's different but no better than "Sunset."
Mostly it's shorter, as West's solution to the problems of Will Holt and Bruce Vilanch's cliché-ridden, soapy book—about a fading 1940s Hollywood star trying to reinvent herself as a pop singer in the 1970s—is just to get rid of it. (The show clocks in at 80 minutes now, though still with a score of 13 numbers.) Relationships alter so quickly it's a wonder the actors don't get whiplash. Worse, the resolutely mediocre songs, with misaccented and misrhymed lyrics by Holt and bland music by Gary William Friedman, now often just hang in midair, sung to nobody in particular for no good reason.
None of this is the fault of the perfectly professional cast (Donna Bullock, Wayne Wilcox, Bruce Sabath, Sarah Litzsinger, and Jay Wilkison). It's just that "Platinum," at its best, is merely plate.
Presented by UnsungMusicalsCo. as part of the New York International Fringe Festival
at the Lucille Lortel Theatre, 121 Christopher St., NYC. Aug. 17–21. Remaining performances: Wed., Aug. 18, 7:15 p.m.; Thu., Aug. 19, 11:30 p.m.; Fri., Aug. 20, 2 p.m.; Sat., Aug. 21, 9:15 p.m. (866) 468-7619 or www.fringenyc.org. Casting by Geoff Josselson.