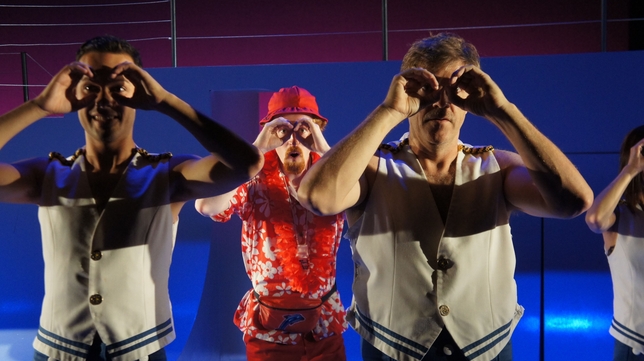 In Sheila Callaghan's "Port Out, Starboard Home," aka "P.O.S.H."—developed in collaboration with the company FoolsFury—an assortment of lonely, broken misfits embarks on a luxury cruise that has been advertised as offering a life-altering experience. Most of the amenities onboard are fairly standard: multiple discos, a casino, and buffet tables at which you're encouraged to gorge yourself like a greedy farm animal. But the centerpiece of the package—a special sort of ritual-centered group experience—is top secret. Determining the nature of the event is on everyone's mind. Will it involve pain? Sex? All that's known for sure is that no one who's been through it has ever revealed what transpires.
The first part of the play looks in satirical fashion at passengers trying desperately to party themselves into a state resembling contentment. The ensemble acts as a kind of Greek chorus, speaking in unison as each passenger is introduced. ("That's Gayle. She's a fucking terrible dancer.") Presiding over the whole enterprise is a diabolical-looking and heavily tattooed cruise director, Johnny O (Brian Livingston). Then there's Johnny's adjunct, the "fragile," New Age–speaking Maya (Amy Prosser), who everyone assumes will figure somehow in the mysterious event.
The passengers are to some degree stock characters, but they hold our interest. I especially liked Josiah Polhemus' Blake, a chauvinistic know-it-all of an investment banker; Benjamin Stuber's Mack, Blake's shy, jittery, virginal son; and Debórah Eliezer's Caroline, a twitchy, ego-beaten divorcée. The performers—directed by Ben Yalom—are not always as precise as they might be in the choral speaking and the dance sequences (choreographed by Erika Chong Shuch). Still, it's a likable ensemble, with actors nicely balancing the characters' humor and pathos.
Callaghan and Yalom do a good job of building a sense of dread around the impending ritual, and Patrick Kaliski adds much to the effort with his imaginative sound design. I wish set designer Dan Stratton had somehow managed to create a sense of the vast oceanic abyss that surrounds the ship and isolates it from the rest of humankind, but that's a tall order when you're working with the small stage at La MaMa.
Quick-witted audience members may predict correctly what happens behind closed portholes during the ritual. I won't reveal anything, except to say that the playwright may have spent some time perusing the collected short works of Shirley Jackson. The ritual itself is—wisely—not depicted, but I wish Callaghan had kept it better draped in mystery after it occurs. Her denouement includes details that are probably better left in shadow. There's a reason why unspeakable things are called unspeakable.
Suggestions are made late in the play about psychological underpinnings and justifications for the ritual. I was reminded of the Jungian ado about the blinded horses in Peter Shaffer's "Equus." In "P.O.S.H." these suggestions seem unconvincing, but I couldn't quite tell whether or not Callaghan intended them to be so.
Presented by La MaMa, in association with FoolsFury, at La MaMa, 74A E. Fourth St., NYC. Nov. 11–25. (212) 352-3101, (866) 811-4111, (212) 475-7710, www.theatermania.com, or www.lamama.org.
Critic's score: B-