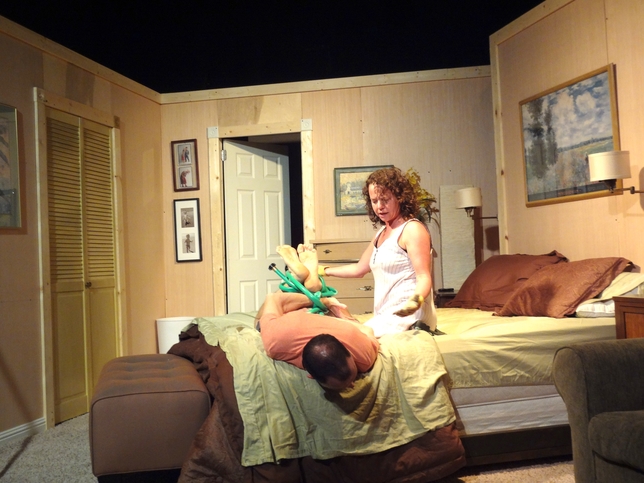 "Positions," by Owen Dunne, is most noteworthy as being the first original play to move to New York from Red Barn Studio, a 50-seat community theater in Wilmington, N.C., founded half a dozen years ago by the actor Linda Lavin and her husband, Steve Bakunas. Bakunas not only directs this production; he has also designed its sets, lighting, and sound and written the incidental music. Lavin and Bakunas are reportedly leaving Wilmington, where they have lived for 17 years, and giving up stewardship of the theater they created. Judging from "Positions," I'd say this is just in time.
Married for 15 years, Leo (Mike O'Neil) is not happy with his sex life and persuades his wife, Hillary (Michelle Gagliano), to engage in a different sexual position every week for a year. The setup is predictable and old-fashioned, the kind of mainstream 1960s sex comedy that Neil Simon might have written and Lavin could have starred in. But there is some charm in its execution, thanks mostly to the two performers. O'Neil has an appealing dorky-turning-desperate quality that's reminiscent of Bryan Cranston in the first season of "Breaking Bad." His character is even a high school teacher. Gagliano is an Everywoman wife and mother who during the course of their fantasy sex play reveals her inner voluptuary. The couple's banter and physical comedy are reasonably entertaining.
Their comic duets, however, take place entirely in the first act. Then, unfortunately, there is a second act, which begins in a motel room with Leo and a prostitute named Cassandra (Anna Stromberg). Hillary, we learn, has kicked Leo out for having secretly recorded their sex sessions, which accidentally wound up on the Internet. Leo doesn't want to have sex with Cassandra, paying her but resisting her advances. Instead, he is enlisting the prostitute to try to win his wife back. Everything that happens in Act 2 is so improbable that it becomes tedious. The playwright, director, and cast might have pulled it off had they decided to make the play an over-the-top farce. Instead, the plot is played out earnestly, with Cassandra portrayed as a wise and well-meaning woman who happens to look good in hot-pants and even better when she changes into a conservatively dressed would-be student.
Audiences are clearly meant to come away from "Positions" with insights into love and marriage, but they're more likely to leave feeling sore.
Presented by Red Barn Studio at Roy Arias Studio Theatre, 300 W. 43rd St., NYC. Oct. 11–21. (212) 868-4444, www.smarttix.com, or www.redbarnstudiotheatre.com.
Critic's Score: D +