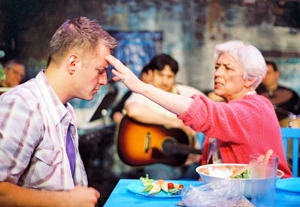 While her character recounts a cancer scare, Wendy Merritt mixes vulnerability and determination like ingredients in the salad she is tossing. Joy, the lesbian, New Age, health-educator mother you've always wished you had, must convince her son that she remains strong enough to be the family's matriarch. But in the mediocre theatrical event Merritt currently occupies at La MaMa, the actor goes further, giving the play a depth and warmth it couldn't have without her.
The play is "Post Modern Living," written by Richard Sheinmel as a follow up to his 2006 "Modern Living." In both, Sheinmel, a remarkably unremarkable actor, stars as Mitch, a playwright delivering "snapshots" from his own life to his audience. Here he offers two short plays, but if they are snapshots, they are woefully underexposed, like Polaroids someone forgot to shake.
Merritt holds court in the second play, "Über Mom," which has more heft than the first. Combined with a story about a guardian angel, it calls us to acknowledge the faith we put in our loved ones. Mitch's closing tribute to his mother is so endearing that it almost makes up for the preceding hour and a half.
The first play, "The Twelfth Day," is little more than a series of dramatized anecdotes—Mitch and his husband have a Christmas party; Mitch gets a mole removed—that probably sounded interesting at the party re-created on stage. Interspersed throughout is a series of songs performed by a guitar-wielding, smiley Chris Orbach in front of a three-piece band. The songs, written by Clay Zambo, have pleasant tunes but forgettable lyrics, and Orbach's voice recalls an unfortunate night of karaoke. When Briana Davis takes over a few bars of one of Zambo's songs, the conceit's potential finally becomes audible, a cruel tease.
Set designer John McDermott and director Jason Jacobs keep the evening fluid and comfortable, with a few chairs and tables conveying various domestic scenes. But the creative team's attempt at relaxed intimacy is ultimately self-defeating: Merritt's disciplined vitality is all that anyone will be talking about.

Presented by and at La MaMa E.T.C., 74 E. Fourth St., NYC. April 18–May 2. Fri and Sat., 10 p.m.; Sun., 5:30 p.m. (212) 352-3101, (866) 811-4111, www.theatermania.com, or www.lamama.org.