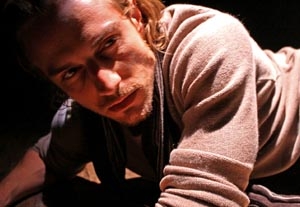 Ezra Pound, the influential American poet accused of treason during World War II but never tried, finally gets his chance for a jury verdict in
Pound
, written and directed by William Roetzheim. The jury in this case is the audience, whose programs contain cards with "Guilty" printed on one side and "Innocent" on the other. After Pound and various other characters, all of them played by Jeff Berg, have their say, the audience renders its verdict by flashing the cards.
It's an interesting conceit, and the production, in its 75 minutes or so, briskly demonstrates how Pound, broadcasting from fascist Italy, railed against U.S. participation in the war in talks filled with anti-Semitic ranting and hatred for President Franklin D. Roosevelt. It tells how Pound, arrested after the war, was judged mentally unfit to stand trial and confined to a mental hospital for 12 years. We're also filled in by no less than Ernest Hemingway on how Pound advanced Hemingway's career and those of other major writers, such as T.S. Eliot and James Joyce.
With nothing more than a scarf for costume changes, Berger expertly brings to life the play's various personas, from the smug but magnetic Pound and self-assured Hemingway to a charmingly sincere female Italian propaganda official. But the potential for courtroom tension is dissipated because the script asks the actor to continuously switch from one role to another, from accusers to accused and supporters. Rather than emotionally engaging drama,
Pound
in essence shapes up as a dialectic examining the role of the artist in relation to his art and society as a whole.
Toward the finish, the poet Alan Ginsberg shows up to testify, arguing that what's happening is about every artist "who is trying to tell the truth as we see it no matter what the consequences. It doesn't matter whether we're right or wrong; what matters is that we're honest and passionate." Specious reasoning or not, as it's not Pound's art on trial, the audience at the performance reviewed found Pound innocent.
Presented by American International Theatre at the Studio Theatre, 410 W. 42nd St
.,
NYC. May 27
–
June 19. Schedule varies
. (
212
)
279-4200 or www.ticketcentral.com.

Presented by American International Theatre as part of the Midtown International Theatre Festival at the WorkShop Theater, 312 W. 36th St
.,
NYC. July 20
–
26. Schedule varies
. (
212
)
352-3101
, (
866
)
811-4111, www.theatermania.com, or www.midtownfestival.org
.