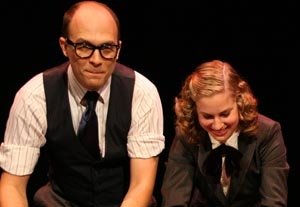 You probably haven't heard of Raymond Scott, but you might have heard his music. His forward-thinking electronic compositions have been overshadowed by the use of his music in 1950s Warner Bros. cartoons. "Powerhouse" brings Scott's work—and troubled personal life—into the public eye for a fascinating look at media and the perils of genius.
Conceiver-director Jon Levin's staging cleverly captures the era in cartoonish sequences reflecting the rise of television, highlighted by brilliant Bunraku-style puppet versions of cartoons using Scott's music. Erik Lochtefeld brings gravitas as Scott, whose perfectionism is all the more tragic set against his slapstick surroundings.
"Powerhouse" doesn't linger on character development and can seem as superficial as the culture it examines: One of Scott's marriages lasts but a few short minutes on stage. The focus of the play is ideas, a fitting tribute to Scott, whose many thoughts left little room for other occupants of his life.
Presented by Sinking Ship Productions as part of the New York International Fringe Festivalat the Connelly Theater, 220 E. Fourth St
.,
NYC
.
Aug. 15
–
28. Remaining performances
:
Wed
.,
Aug. 19, 2:45 p.m
.;
Sat
.,
Aug. 22, 2:15 p.m
.;
Sun
.,
Aug. 23, 7 p.m
.;
Fri
.,
Aug. 28, 9:30 p.m
.(
866
)
468-7619 or www.fringenyc.org
.