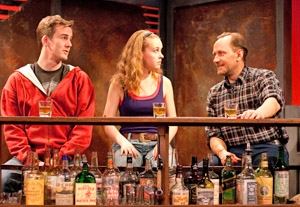 In "Princes of Waco," playwright Robert Askins spins a Jacobean-like tale of deceit and revenge on the dusty plains of Texas. Like the Jacobeans, his plotting sometimes seems forced or murky, but the play, buttressed by Dylan McCullough's taut direction and a strong cast, is nevertheless chilling, funny, and mean.
The story concerns young Jim, who is fleeing the funeral of his father, a minister. Jim ends up in a bar, where he meets Fritz, an older lowlife drunk who robs convenience stores. Fritz corrals the unsuspecting Jim into accompanying him on a heist. Jim winds up taking the rap, while Fritz wins Esme, the high school Lolita who's already won Jim's heart. That's the first act. The second act takes place four years later. Esme has hardened into a foul-mouthed but still sexy wife, and she has managed to reform Fritz. He's given up liquor and is on his way to becoming a nurse. But reformation is short-lived when Jim, now filled out into sturdy manhood, comes back to town, hungry for both Esme and blood.
Askins is a member of Youngblood, Ensemble Studio Theatre's collective of emerging playwrights under the age of 30. His dialogue is muscular, at times poetic, and his storytelling has a mature sensibility. Fritz describes himself as a leftover from a lost world of "wild places…where wild men could live." He sees himself as left with "nothing but a barstool." However, the character, whose motivations sometimes seems more contrived than credible, never quite rises to the tragic heights Askins seems to be aiming for.
Still, the writing throbs with compelling vibrancy in this well-realized, tightly acted production. Scott Sowers infuses Fritz with humanity and humor, along with the grittiness of a resolute drunk. Evan Enderle and Megan Tusing are impressive as they take Jim and Esme from uncertain youths to tough adults. Christine Farrell rounds out the cast in colorful fashion as a slatternly barkeep with soul.
Maiko Chii's evocative unit set, Ji-youn Chang's blood-red backlighting gleaming through broken slats, Hillary Charnas' sound design, and Danielle Schembre's costumes are all first-rate.
Presented by and at Ensemble Studio Theatre, 549 W. 52nd St., NYC. Jan. 11–30. Thu.–Sat., 7 p.m. (212) 352-3101, (866) 811-4111, www.theatermania.com, or www.ensemblestudiotheatre.org.