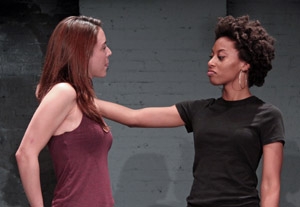 Elaine Jackson's "Puberty Rites...Not a Bootleg Experience" is half of a fine play. That's the half dealing with Keesha (Yasha Jackson), the foul-mouthed, street-smart, totally engaging high school student struggling with studies and life in an unnamed Northern California suburb. (More specificity wouldn't hurt; we have little sense of her immediate surroundings or local culture.) Keesha is the de facto head of the household, with numerous female relatives living with her, many with young kids who need looking after. She also has a boyfriend, a dog that may be metaphorical, and a sassy, winning way. She addresses the audience a lot and soliloquizes at length, and Yasha Jackson's Keesha, besides looking great in cheap slacks and a tight black leather vest, struts around like she owns the neighborhood, just as she would in real life, and philosophizes—about the behavior of entitled whites, her narrow world, the politics of her laundry room—with a limited but winning vocabulary. There's a little of Queen Latifah and a lot of Eddie Murphy in Keesha, and while "Puberty Rites" spotlights her, we're hooked.
But, alas, white, privileged Vesna (Arielle Uppaluri) wanders down from the wealthy hills, and while she processes her teenage angst, "Puberty Rites" is unfocused and confusing. Vesna is near-suicidal, and though we learn slowly about her sad state—she hates her parents, she wants to kill the boy they've adopted, she's in what appears to be not very successful therapy—she doesn't add up to a whole person. It turns out that Vesna and Keesha are in the same English class, though why they'd even be attending the same school is one of many mysteries "Puberty Rites" never clears up. Who's the dying man Vesna hallucinates about? Why does she suddenly drop on all fours and bark like a dog? Is her father really a "faggot," as she snarls, or is she just name-calling? Most of all, where is all her pain coming from? I'd like to report that Uppaluri clarifies and illuminates Vesna's strange behavior, but the character simply isn't as well written as Keesha (and has only one unrevealing monologue to Keesha's several, more bracing ones), and Jackson often leaves Uppaluri flailing.
"Puberty Rites" wants to be about how desperate young people can find empathy and support from unexpected sources, and Keesha and Vesna do bond convincingly, though it's often through high-flown language that neither character could possibly be capable of concocting. (Vesna: "Your mouth is like a blowtorch." Keesha: "Attitude is quilted on the lining of my DNA.") It's not helped by A. Dean Irby's awkward staging, which forces one girl to freeze upstage while the other soliloquizes at length, or Bill Toles' errant sound design, with the noises from Keesha's offstage apartment switching on and off like a light switch. Still, it's a plausible study of how today's youth view the universe and despair over their place in it, and its ending—Keesha, though she clearly has the mental resources to survive in the outside world, falls into the same abyss that defeats her peers—is rather heartbreaking. I'll be on the lookout for Yasha Jackson. She's going places. 
Presented by New Federal Theatre in association with Castillo Theatre at Castillo Theatre, 543 W. 42nd St., NYC. Nov. 6–20. Thu.–Sat., 7:30 p.m.; Sat. and Sun., 2 p.m. (212) 352-3101, (866) 811-4111, www.theatermania.com, or www.castillo.org. Casting by Lawrence Evans.