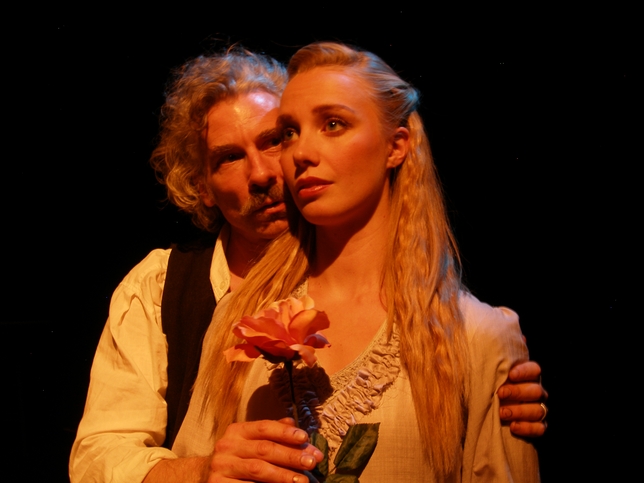 It is not easy to treat "Alone" as just another play, for two reasons. First and foremost are the circumstances in which I saw it: an Off-Off Broadway production that went on when the blackout that followed Hurricane Sandy shut down most of the others. Its lead actor, Timothy McCown Reynolds, had walked from his home in Bushwick all the way to the theater in midtown Manhattan for the tech rehearsal the day before it opened. The night I attended "Alone," I was nearly alone in the audience. How can one help but be impressed by the dedication of Rabbit Hole Ensemble?
But "Alone" is also difficult, because its writer and director, Edward Elefterion, the artistic director of Rabbit Hole Ensemble, claims that it is inspired by the life and work of August Strindberg and created in honor of the centennial of his death. Yet it is about as far from a bio-drama of the great Swedish dramatist as a play whose main character is named August Strindberg could be. Yes, there are a few scenes with Siri (Annalisa Ledson), the first of his three wives, and with one of his daughters (also played by Ledson.) But this Strindberg spends more time in conversation with his landlady (Alyssa Simon), who compares him to Edgar Allan Poe, as well as with a war veteran and a young musician (both played by Adam Griffith) and a beggar woman (Tracy Shar). He also communicates at length with a sparrow and Cerberus, the three-headed hound who guards the gates of hell, and eventually with the dead Poe himself, who mostly dispenses advice ("Free yourself from the weight of character and plot and cut to the heart. How does it feel?")
The fictionalized Strindberg views each encounter as a clue for his writing; we frequently see him putting together and ripping apart pieces of paper. The audience too is left with only hints and fragments, which suggest a period in Strindberg's life when he skirted with madness and re-emerged an even stronger writer. Ultimately, it becomes apparent that Elefterion is interested primarily in exploring the sources and process of creativity, but the attempt has neither sufficient clarity nor freshness.
What makes "Alone" work at all is the ensemble's signature style. Rabbit Hole uses minimalist design and a lovely sort of hand-held theatrics similar to the effect so lauded in "Peter and the Starcatcher," but with a radically smaller budget. Reynolds and the other six cast members perform with grace and energy, even while their characterizations are mostly outlines with little shading. The actors also hold the lights, make the music while sitting at the edges of the stage, move the little sparrow that chirps and dances on a small branch, and eventually gather together onstage and flap their arms winglike in unison. There are definitely moments of enchantment. Those in search of the author of "Miss Julie" and "The Father," however, will have to be content with a theatrical experience that is closer to a cross between an abstract painting and a folktale.
Presented by Rabbit Hole Ensemble at the WorkShop Theatre, 312 W. 36th St., 4th floor, NYC. Nov. 1–17. (800) 838-3006, www.brownpapertickets.com, or www.rabbitholeensemble.com.
Critic's Score: C+