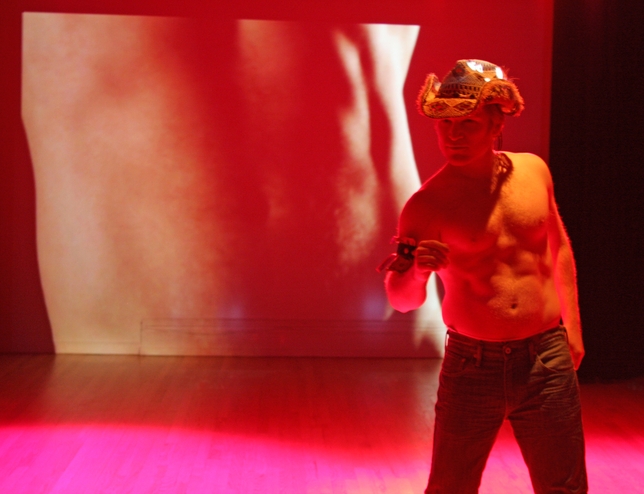 Actor-author Ryan Kipp's "REDlight" is a brief (at 36 minutes) collection of monologues linked by the character of Gavin, a hunky young straight guy who performs as an erotic dancer in a gay club. We hear the tirades and travails of customers, a boss' pep talk, as well as from Gavin himself, both as a boy and a man. Alas, though there is talent in evidence in some of the writing, the fragmented work never coalesces into a meaningful whole.
This slight show nevertheless has required the efforts of two directors (Jennifer Tuttle and Marc Santa Maria) and a choreographer. But they haven't found a way to keep it from stopping dead every time Kipps changes costume (for each character). Playing Raymond Rea's video and some background music isn't enough. Kipp is good-looking and obviously sincere, but this clearly personal show ironically keeps us at arm's length, partly because it's rarely clear to whom we are listening and why their words matter. Kipp tells us at the end that his goal is simple connection. He hasn't reached it yet.
Presented by Trigger Creative as part of the New York International Fringe Festival at the White Box at 440 Studios,440 Lafayette St., 3rd floor, NYC. Aug. 10–26. Remaining performances: Thu., Aug. 16, 9:30 p.m.; Sat., Aug. 18, 4:30 p.m.; Sat., Aug. 25, 5 p.m.; Sun., Aug. 26, 4 p.m. (866) 468-7619 or www.fringenyc.org.
Critic's Score: C-