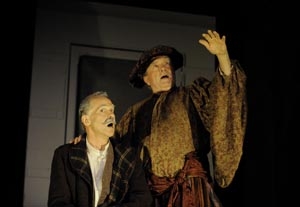 The vagueness of the umbrella title for this collection of five playlets points up the difficulty of finding a common theme here. Three of the pieces are world premieres, while two are vintage works by Chekhov and Beckett. Three are set in theatres, one in an amorphous afterlife, and one in 18th-century Cuba and England. The best we can come up with is that all are attempts to find meaning in past and present lives.
In one of two 10-minute curtain raisers, Beckett's
Catastrophe
, a director (David Arthur Bachrach) gives his assistant (Nicole Godino) instructions on the presentation of the third character, simply named the Protagonist (Grant James Varjas). He is presumably an actor but also silently conveys a combination of artist's model and sculpture in progress. The point seems to be that we are not creatures of our own invention but are shaped by outside forces. But a lot of the talk, mostly by the director, says little more than that.
In the other,
Compromise
, Ian Strasfogel riffs on Beckett with a witty bit of dialogue between a director (Bill Fairbairn) and his producer (Christine Verleny), who want to revive Beckett for a modern audience.
"Happy Days
?" he asks her. "I'm a producer," she replies. "I don't have any." Nonetheless, they argue over setting Winnie and her mound of dirt in Rwanda circa 1994 or Afghanistan today. The ghost of Beckett (Bachrach) hovers silently, disapproving of the alterations. Yet all art evolves in the end.
Alvin Eng's
Their Town
, a post-death takeoff on Thornton Wilder's
Our Town
, concerns two estranged colleagues reunited in Limbo upon the death of one of them, Harry Cloud (Todd Butera). The other, Terry Cave (Fairburn), has predeceased him and insists that he re-examine his life in order to prepare for what is to follow.
Chekhov's
Swan Song
, set after a performance in a country theater in 1896, is essentially a monologue by an elderly actor (Fairburn) lamenting his solitary life committed to the stage. He is later joined by an equally elderly prompter (Bachrach), who has the sense to merely say his lines quickly rather than act them as he and the actor—as hammy offstage as on—re-create scenes from the classics in an attempt to stave off regret and reinforce passion for one's work.
Michael Feingold's
What Happened Then
is the most fully realized of the plays, with a solid beginning and ending. (An unexpected twist in the middle is mostly conveyed in conversation after the fact.) Varjas plays an Englishman convicted of a murder he didn't commit, and Butera is his still-living "victim." In 1712, years after leaving England, they meet in self-exile in Cuba, where they discover their mutual fate and agree to return home to reclaim their lives and families. A third character (Godino), a niece of the victim, appears in the second scene, set in her inn at Deal in 1730. Though it's essentially two sit-down conversations—a servant provides some relief from the sedentary principals—the play is very affecting. The English accents are excellent, and the costumes—here and in
Swan Song
—by Colleen Kesterson are effective.
The actors in all five pieces are first-rate, with Butera taking the prize for variety in three decidedly different roles. Director Eric Parness has provided the evening with a touching glow that almost bridges the plays' differences. 
Presented by Resonance Ensembleat the Lion Theatre, 410 W. 42nd St
.,
NYC
.
May 21
–
June 6. Wed
.–
Sat
.,
8 p.m
.;
Sun
.,
3 p.m
.
(
212
)
279-4200 or www.ticketcentral.com
.