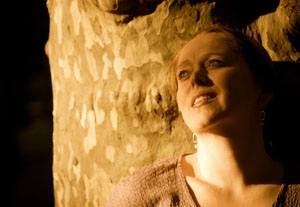 The statistics are staggering: hundreds killed here, thousands there, millions somewhere else. Our minds cannot take it in, cannot humanize such inhuman acts. So we domesticate events, as in "Reflections," the two one-act monologues that are part of this year's 1st Irish theater festival. But we chance objectifying, as happens here. Though sincerity oozes from every pore in this one-woman double-header, the results, colorful as they may be, lack the Irish gift for making poetry out of the mundane and fail to feed our emotions.
In the first part, Jennifer Johnston's "Twinkletoes," a woman named Karen tells of life without IRA husband Declan, who's serving three consecutive life terms for murder. Bemoaning the fact that he is obviously unable to attend their daughter's wedding, Karen pours her hurt into trivia. She's the woman left behind by her "hero," the woman who wishes for a magic carpet to freedom for herself and Declan. The ironic title comes from her desire to dance versus her inability to find solace. "If everything is nothing," she says, "then there is nothing that I need."
In the second part, Bernard McMullan's "Forgotten Milk," Karen and Declan's daughter, Noreen, has become a lounge singer. The son with whom Karen was pregnant at her wedding is now grown and also named Declan. The time is after the Good Friday agreement (whereas "Twinkletoes" takes place before it). Noreen is now a child of "the Troubles" who cannot escape the past. "You reserve the right to fuck up your own life," she says.
That there are two different authors using the same material, setting (County Derry), and characters is explained in the program. Johnston's came first. When an attempt to get her to write a companion piece failed, producers contacted the obliging McMullan. The result dovetails in a portrait of two victims of the Irish rebellion.
As both Karen and Noreen, Paula Nance skillfully differentiates the two women. Karen is weighty, tired, and defeated, aware that her prime is fast slipping away. Noreen is lighter, brighter, wistful, yet angry and full of frustration. "You're from where you're from," she says. "You can't change it."
Directed with vigor by Jo Cattell, "Reflections" benefits greatly from the music by Andy Mac, which he plays on his guitar. His presence, by turns forceful and supportive in songs "This Is the Way," "Nothing's as Good," "Everything and Nothing," and "Beside You," punctuates these loquacious tales of survival.
Presented by British National Theatre of America as part of 1st Irish 2011 at Stage Left Studio, 214 W. 30th St., NYC. Sept. 18–Oct. 2. Thu.–Sat., 8 p.m.; Sun., 3 p.m. (212) 868-4444 or www.smarttix.com.