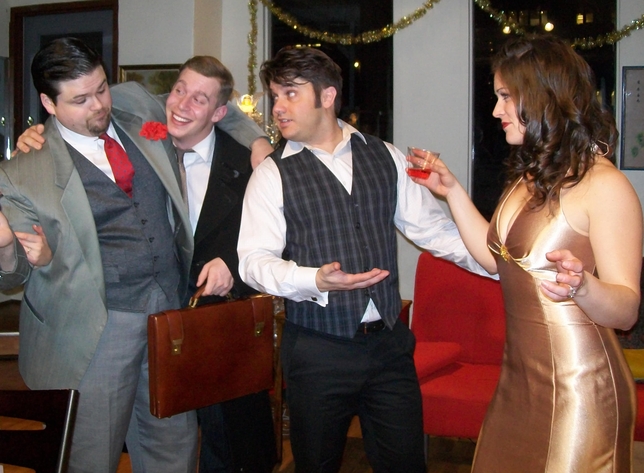 ReGroup Theatre, dedicated to the production of plays staged by the Group Theatre in the early 20th century, is nothing if not ambitious in turning to "Big Night," Dawn Powell's caustic comedy about middle-class New Yorkers. The play, written in the late 1920s but staged by the Group in 1932, foundered in its debut. According to Harold Clurman in his company history "The Fervent Years," Group members would for years repeat the ironic wisecrack first spoken by Stella Adler: "Harold has a great idea. He's going to revive 'Big Night.' " To add to the ReGroup's problems, a number of its cast members appear far too young for their roles, and the director, Allie Mulholland, has cast himself in one of the leading parts—a risky proposition for a young performer, even when the material is tried and true.
I would love to report that the brave Mulholland and company have overcome these obstacles and fashioned a performance that manages to find just the right savage attitude for depicting Powell's collection of coarse advertising schlubs, garment sellers, and chippies; that they have, in effect, had the last laugh at Adler's quip. Unfortunately, I can't. The production is for the most part unconvincingly acted and untidily directed.
"Big Night" came out of that nasty period when the Great Depression was being ushered in and Prohibition had not yet been escorted out. The story concerns failing ad man Ed Bonney (Mulholland), all but dead meat at his agency. His hopes of landing a big account and saving his skin depend on the dangling of his wife, ex-model Myra (Adrienne LaValley), in front of a clothier from Chicago named Bert Jones, aka "Jonesy" (Daniel Hainsworth), who has long had a yen for her. Ed throws a boozy party for Jonesy in his Tudor City flat, attended by—among others—an agency colleague and his wife (Matt Giroveanu and Danielle Heaton), an entertainer who is described as a second-rate Eddie Cantor (Mateo Prendergast), and an oversexed, uninvited neighbor from upstairs (Kelsey Moore). "Sit down—act refined," Ed says. Fat chance of that, what with this collection of noisome, sniping guests. As Jonesy puts it, "It's a cheap outfit, this New York crowd."
The actors shuffle around the stage listlessly much of the time. Few demonstrate any gift for comic timing. LaValley shows talent but exhibits zero affinity for the period. Mulholland, out of his depth, seems to be going for a Ralph Kramden effect, sprinkling in a staccato Woody Woodpecker laugh periodically.
There are two nice turns. Hainsworth effectively portrays Jonesy as a big, lovesick bulldog. He understands the period, and his voice and face seem to have come out of some scratchy old film you'd find late at night on Turner Classic Movies. Giroveanu is fine as Ed's smarmy, pompous, glad-handing colleague Fargo. He comes closer than any of the others to creating the polished, flamboyant grotesquerie that Powell's comedy requires.
Presented by ReGroup Theatre at Shetler Studios, 244 W. 54th St., 12th floor, NYC. Nov. 29–Dec. 3. (212) 868-4444 or www.smarttix.com.
Critic's Score: C-