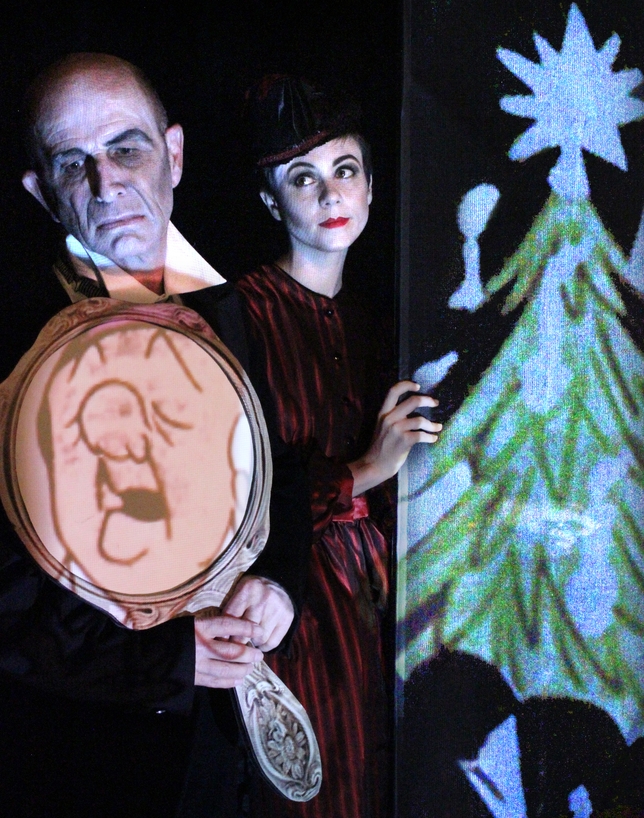 To fully appreciate "Reid Farrington's A Christmas Carol," playing this holiday season at the Abrons Arts Center, you must acquaint yourself with a unique prerequisite, one a little more current than the beloved Charles Dickens chestnut. In recent years the Internet has yielded an interesting new art form, no doubt born of idle time. User-friendly editing software and the ever-flowing stream of film and TV footage on YouTube have resulted in the "super cut." These thorough and often artfully put together video remixes (a nice collection of which can be found at www.supercut.org) offer a hilariously wide-angle view of specific recurring motifs in film, TV, and media, such as every Daniel Day Lewis "screaming scene" or every incidence of the word "baby" in the music of Brittany Spears.
With "Reid Farrington's A Christmas Carol," the titular director, formerly of the Wooster Group, has brought the super cut to the stage in a stylish and funny performance-art piece, compiling footage and audio from the nearly 40 film adaptations of "A Christmas Carol." Through the use of projections and nimbly choreographed stage movements, an onstage Ebenezer Scrooge, played dutifully by Everett Quinton, is haunted by digital ghosts. The Scrooges played by Bill Murray, Patrick Stewart, F. Murray Abraham, Jim Carey, Michael Caine, and even Mr. Magoo make regular flickering appearances on a collection of picture frames and modular black scrims that sail effortlessly on and off stage.
A dapper John Forkner keeps things moving along as the narrator, who frequently reads from Dickens' original text and, along with the rest of the highly poised cast, stands in for other characters when Quinton needs to interact with them. I say "when" because most of Quinton's efforts entail wild gesticulating and lip synching in time with his filmed predecessors, thus supplying a comprehensive catalogue of the seemingly infinite variations of "Bah! Humbug!" and other signature phrases from the iconic Dickens work. The precision of Farrington's staging—in which cast members quickly hold up a picture frame or drape themselves in a sheet to catch a momentary projection—boggles the mind. The labors of lead editor and assistant director Kelly Colburn and sound designer Marcelo Añez are evident and no doubt crucial to achieving the show's most complex and dazzling sequences, such as when the multiple iterations of Scrooge, led by Quinton, confront their respective tombstones across multiple planes of projection and layers of sound.
It's a testament to the inventive, engaging quality of the work that when one of the six LCD projectors went on the fritz at the performance attended, the audience applauded the technicians who scaled a ladder to fix it.
Presented by Foxy Films and Abrons Arts Center at Abrons Arts Center, Henry Street Settlement, 466 Grand St., NYC. Dec. 1–23. (212) 352-3101, (866) 811-4111, or www.abronsartscenter.org.
Critic's Score: A+